2014 annual report
Excerpts from the 2014 Annual Report
Supporting the NPS Call to Action in Network Parks:
Many projects in Great Lakes National Parks received support/funding from the Great Lakes Research and Education Center in 2014.
Natural Resources:
Analysis of Fecal Contents to Determine Prey Utilization of the Genetically Distinct American Marten (Martes americana) Population of Isle Royale National Park (Project in progress)
Cultural Resources:
Shoreline Salvage Excavation at Grand Portage National Monument (Internship)
Burned and Sunk: A United States Coast Guard Vessel, Cabin Cruiser, and Seaplane in the Submerged Depths of Isle Royale National Park (Internship)
Develop Museum Insect Reference Collection (Keweenaw National Historical Park)
Oral History Internship to Support Education, Interpretation, and Outreach to the Public and Park Interpretive Staff (Sleeping Bear Dunes National Lakeshore) (Internship)
Ethno-botanical Garden Plant Markers (Voyageurs National Park)
Two GLREC supported interns from St. Cloud State and East Carolina Universities planned and conducted presentations and developed interpretive tools for the public and for school groups. An intern at Grand Portage National Park taught students from Grand Portage Reservation Elementary School about screening and artifacts during a field investigation to learn about both archaeology and the history of the Grand Portage Village (a major component of the archaeological site). An intern at Isle Royale National Park conducted a public workshop focusing on archaeological investigations of shipwrecks in Isle Royale waters. She also designed and created interpretive shipwreck dive cards.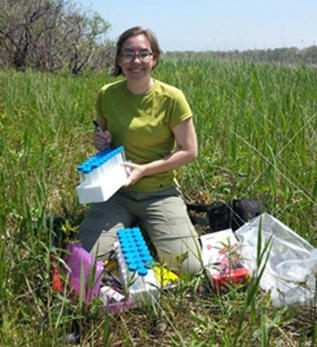 Providing Research Information or Value Added Products to Parks
Making information from research available to parks is a high priority for Great Lakes Research and Education Center staff. Presentations on climate change and climate change communication were presented at a "Climate Change Adaptation Planning and Communication Workshop" at Voyageurs National Park. Articles were written for Park Science and Botanical Society of America on identification of invasive cattail hybrids in network parks. A presentation at Sleeping Bear Dunes National Lakeshore helped park staff and partners understand a project to determine the effects of changing precipitation patterns on six dune plant species and fungi associated with their root systems. An overview of current research projects at Sleeping Bear Dunes was presented to park interpretive staff. Investigator Annual Reports were summarized for staff at Indiana Dunes and Sleeping Bear Dunes National Lakeshores. A proposal was written for Indiana Dunes National Lakeshore on habitat restoration for golden-winged and blue-winged warblers. An applied research project on Phragmites control methods was conducted at Indiana Dunes with the assistance of students from Purdue University. In addition, periodic e-mail bulletins on a variety of research topics were shared with resource management and interpretive staffs from network parks and park partners.
Communicating the Relevance of, and Providing Access to Knowledge Gained through Scientific Research
Research findings are shared in many ways.One science symposium and three public friendly mini-research conferences included 17 presentations and involved universities, government, and non-profit organizations. The following additional projects were coordinated: presentations for elementary school through university groups (7), educator institutes (3), public workshops and presentations (3), brown bag lunches (7), citizen science projects (5), webpage updates (2 websites), e-mail bulletins (numerous). Topics included: aquatic insects; archaeology; bats; dune migration at Mount Baldy (Indiana Dunes); social trail closure and re-vegetation; climate change science, mitigation, adaptation, and communication; invasive species; impacts of logjam modification; phenology; birds; cattail hybridization; shoreline processes; Karner blue butterflies; methylmercury contamination; shipwrecks; singing insects; wetland restoration; Phragmites treatment; water quality; and the importance of research to resource management.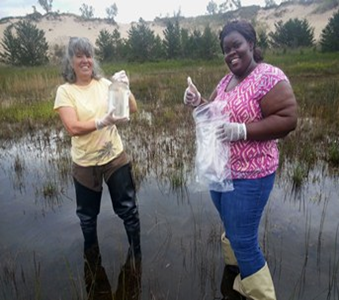 Promoting Science Literacy and Resource Stewardship through Partnerships
The Great Lakes Research and Education Center staff worked with 40 partner organizations (including 22 new partners) to facilitate both research and education projects. Highlights include: four research internships coordinated in partnership with St. Cloud State University, East Carolina University, Michigan Technological University, and Western Michigan University; a two day mini-research conference at Indiana Dunes National Lakeshore presented in partnership with the USGS Lake Michigan Ecological Research Station, Field Museum of Natural History, Valparaiso University, Indiana University Northwest, University of Notre Dame, Northwest Indiana Regional Planning Commission, and the Indiana DNR; "Bats Alive", a public-friendly mini-research conference conducted in partnership with Mammoth Cave National Park, Western Kentucky University, Indiana State University, Purdue University, and The Organization for Bat Conservation; and an "Earth Day Every Day Environmental Science Institute" introducing science teachers to multiple research projects and provided training in two citizen science projects. The Great Lakes Research and Education Center also enlisted participation of citizen scientists in Northwest Indiana for a dragonfly methylmercury study coordinated by USGS, University of Maine, Schoodic Institute, and the National Park Service.
Advancing the Climate Change Response Strategy
Hosted a symposium at the Chicago Wilderness Conference - Partners with Parks: Implementing Climate Change Research in Great Lakes Parks and the Region
Participated in National Climate Change and Chicago Wilderness Working Groups
Facilitated George Melendez Wright Climate Change Fellowship project on dune plant responses to IPCC precipitation projections (Sleeping Bear Dunes National Lakeshore)
Facilitated climate change research permits at Indiana Dunes National Lakeshore.
Assisted with a Climate Change Synthesis and Adaptation Communication Workshop at Voyageurs National Park. Researchers from the University of Minnesota shared a synthesis of projected impacts on vegetation and wildlife at Voyageurs and other Great Lakes national parks under different climate models. Voyageurs National Park staff and partners were the target audience.
Last updated: March 2, 2015