Science & History Week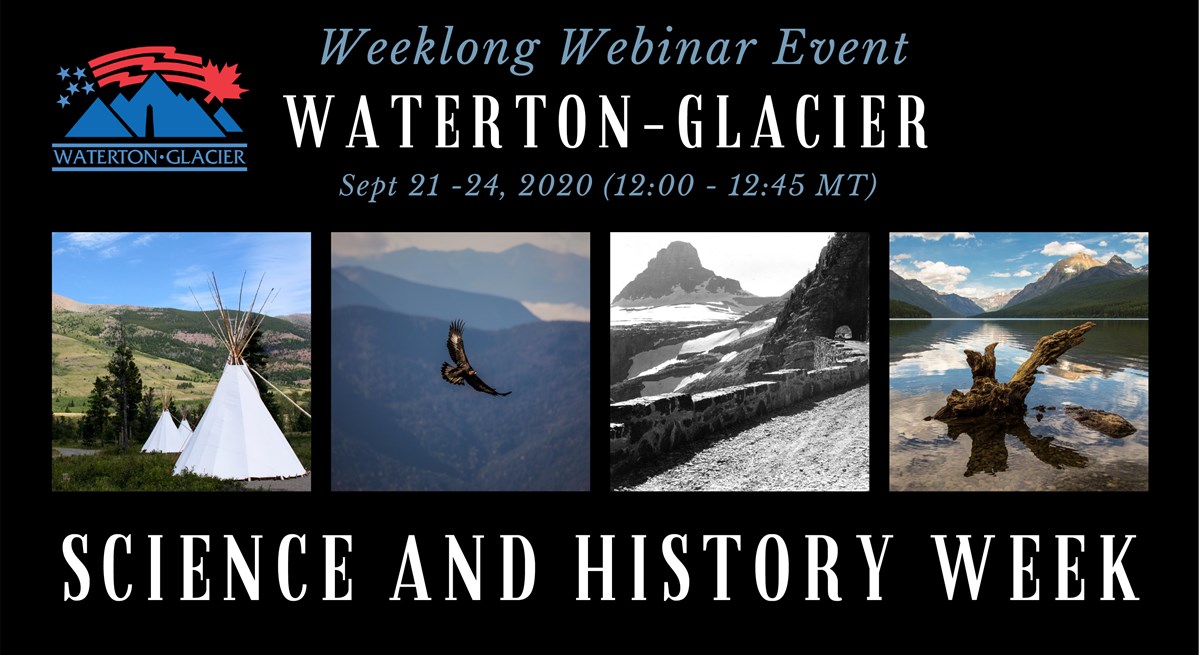 Join Waterton-Glacier International Peace Park in its first ever Science and History Week webinar series! The Peace Park has jointly hosted an annual Science and History Day since 2004, but this year we are doing things a little differently. This fall we will bring a week of live webinars directly to you, wherever you may be!
Beginning Monday, September 21 through Thursday, September 24, 2020 we will host a special presentation each day from noon to 12:45 p.m. The series will highlight current research and historical topics related to Waterton-Glacier International Peace Park. Each presentation will give viewers the opportunity to connect with scientists and historians from the Peace Park and get a unique look at archives, insights, and latest findings from Glacier and Waterton Lakes National Parks.
Each presentation will have its own registration link. Please look at the list of presenters and topics below.
Then follow the link associated with the specific presentation you would like to "attend." Once you register, you will receive an email with detailed information on how to join the webinar. If you need additonal information, please contact the Crown of the Continent Research Learning Center, Glacier National Park at 406-888-5827 or
email us
.
Science & History Week Presentation Schedule
Monday, September 21, 2020
Title: Restoring Native Fescue Prairie Using Fire and TEK (Traditional Ecological Knowledge) in Waterton Lakes National Park and the Blood Timber Limit
Time: 12 noon to 12:45 p.m.
Presenters: Dr. Cristina Eisenberg, Graduate Faculty, Oregon State University
Kansie Fox, Ecologist Natural Resources Senior Manager, Blood Tribe Land Department
Monroe Fox, Technician, Blood Tribe Land Department
Presentation Description: Since 2006, Waterton Lakes National Park has been restoring prairie habitat by setting prescribed fires. Our research team has been measuring grassland and aspen ecological responses to these fires. Additionally, in 2017 the Kenow wildfire burned our study site with mostly extreme severity, creating a new research landscape. In this presentation, we discuss our research findings on the grassland's response to prescribed fire versus wildfire and how Traditional Ecological Knowledge (TEK) is informing Parks Canada's adaptive management, which links TEK and Western science to restore the prairie.
Registration Link:
https://attendee.gotowebinar.com/register/2635130657825740813
Tuesday, September 22, 2020
Title: Raptors on the Move: Glacier National Park
Time: 12 noon to 12:45 p.m.
Presenter: Lisa Bate, Wildlife Biologist, Glacier National Park
Presentation Description: Lisa Bate will discuss the long-term efforts made to find a suitable survey site for monitoring migrating raptors in Glacier National Park. She will explain why the current survey site was picked, the importance and benefits of monitoring migrating raptors, and share some results and experiences thus far.
Registration Link:
https://attendee.gotowebinar.com/register/2574381541030057998
Wednesday, September 23, 2020
Title: A Trip through Time with the Mountain Legacy Project's Repeat Photography Collection in Waterton Lakes National Park
Time: 12 noon to 12:45 p.m.
Presenter: Cassandra Buunk, MA Candidate, School of Environmental Studies, University of Victoria
Presentation Description: The Mountain Legacy Project is one of the largest systematic repeat photography projects in the world. Old survey photographs from the late 1800s and early 1900s in Waterton Lakes National Park were repeated in 2004 and again in 2019, after the Kenow wildfire. Some of the evolving collection of images will be showcased, along with a look into our process and what the images can be used for in asking diverse questions about the landscape's past and the stories connected to it.
Registration Link:
https://attendee.gotowebinar.com/register/2152143787196679950
Thursday, September 24, 2020
Title: The Poacher and the Bootlegger: Revisiting the Doody Homestead
Time: 12 noon to 12:45 p.m.
Presenter: Kelli Casias, Historical archaeologist, Western Cultural; and PhD candidate, University of Montana
Presentation Description: In 2018, the Anthropology Department of the University of Montana undertook an extensive survey of the Doody homestead located in Glacier National Park. Home to Dan Doody, a homesteader, park ranger, and poacher, and his wife Josephine, a moonshiner, the property and its residents characterize a connection to 40 years of Montana homesteading history. It also speaks to 30 years of park history and to the Indigenous uses of the land. Beyond these grand themes, minor narratives of the fur trade, mining, railroad history, alcohol prohibition, and gender are expounded upon to contextualize the archaeological evidence uncovered at the Doody homestead.
Registration Link:
https://attendee.gotowebinar.com/register/851383048630737422
Last updated: September 4, 2020