CDRLC Staff Resources

Therese Johnson
Director of the Continental Divide Research Learning Center (CDRLC)
Therese oversees the staff, facilities, and research and learning programs at the CDRLC.

Scott Esser
Ecologist


Scott is the CDRLC Research Coordinator, identifying research needs, recruiting research partners, facilitating research in the park and communicating the results of research to inform park management and educate the public.

Carissa Turner
Biologist


Carissa serves as the Science Communication Coordinator for the CDRLC and highlights park research and findings to various audiences. She also manages the McGraw Ranch research facility and supports learning and research activities.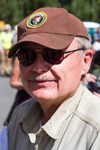 Bill Peterson
McGraw Ranch Caretaker

Bill oversees facilities at McGraw Ranch and provides logistical support to its residents.
Last updated: May 5, 2017