Call for 2020 Park-Funded Research, Technical Assistance and Education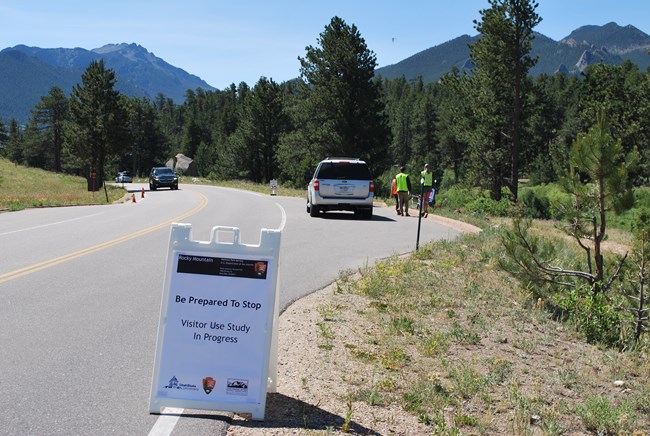 Due: October 15, 2019
Do you have a park management question that a research project could address?
Purpose
The Continental Divide Research Learning Center (CDRLC) is issuing a request for proposals in three categories including research, technical assistance, and education projects. These projects should aim to promote the informed decision making and adaptive management of Rocky Mountain National Park or the education of staff to promote professional development and growth.

The goal for these funds is to address identified needs for information, technical assistance or education on any topic of interest to park management. Projects can be identified by park staff, agency partners or universities, and researchers. Park staff should route their projects through the appropriate supervisors. Park staff can identify a university or agency partner to work with directly to develop a proposal, or if you have an idea without an identified partner CDRLC staff are available to assist in finding the appropriate research partner. Universities within the RM-CESU and agency partners are encouraged to apply, particularly those showing in-kind support or other ways to leverage funds. We encourage you to collaborate with park staff to generate strong proposals. The list of these partners/institutions is available on the RM-CESU web site, at http://www.cfc.umt.edu/cesu.
Proposal Submission and Review Process
Project Categories: We will accept submissions of projects in three categories: research, technical assistance, and education.
Research: NTE $50,000 per project. This can include "seed money" for pilot projects. Proposals can address either strategic or tactical research needs (including inventory and monitoring).

Technical Assistance: NTE $20,000 per project. These are projects that engage experts and students with park managers to provide assistance such as reviewing existing data, providing expert advice, or performing preliminary survey work.

Education

: NTE $20,000 per request. These projects provide educational opportunities to park managers and staff, with an emphasis on using CESU partner opportunities. Education projects can also include community outreach projects, or student education related to park resources or management.
Format for Proposals: Project proposals should be no longer than three pages, and include the following:
Title and category of proposal

Objective and rationale

Proposed scope of work

Amount requested and significant budget items (basic budget template is on next page)

Products

Partners

Park contact person, if you have been discussing the project with park staff.
Budget: For our proposal review we usually only need bare bones information – just evidence that costs are appropriate for the activity. Feel free to use this basic table if you find it helpful.
| | | |
| --- | --- | --- |
| Item | Justification | Total |
| Salary | x units of time at x% effort, $x/unit time (days, etc.) | $x |
| Fringe | @xx% | $x |
| Travel | Mileage; hotel; per diem; cost/day x # days | $x |
| Tuition, other | Specify time period for tuition payments | $x |
| Printing and supplies | Photocopies, report binding, and other supplies | $x |
| Direct costs total | | $x |
| Indirect costs: | at the CESU rate of 17.5% or other federal agreement rate | $x |
| TOTAL: | | $x |

Projects will be reviewed and ranked by a panel, and then recommended to the park leadership team for selection and approval. Partial funding may be awarded to a project rather than the full requested amount when appropriate. Because funding is limited, smaller projects are often the most likely to succeed. Check with CDRLC staff if you think your idea is particularly strong and requires a larger budget.
Park Topics/Questions of Interest
Twin Sisters trail assessment post rock slide rehabilitation work.

Understanding park visitation or visitor use – Including socioeconomic impacts of visitation, visitor recreation and planning motivations, etc.

Develop a monitoring strategy for visitor use impacts.

Recreational impacts to park resources from visitor use (beyond soil and vegetation).

How does increased visitor use cause habitat fragmentation or impact the overall use of an area of the park by wildlife?

Development of a model to estimate emergency evacuation times for Bear Lake Road and Wild Basin under a variety of visitation scenarios.

Species vulnerability assessments to determine which species may be in jeopardy due to global change and/or habitat reduction. Emphasis on high elevation species.

Identify potential bottlenecks in wildlife migration/connectivity corridors inside and outside the park, using a combination of biological assessment and GIS mapping.

Spatial analysis to map the park's geodiversity and/or vulnerability to climate change (and more ideally for a larger region, such as the Rocky Mountain Biosphere Reserve).

Develop revised ecosystem restoration methods in the face of climate change.

Assess and map the park relative to the threats to archeological, ethnographic and historic resources and cultural landscapes due to increased visitor use, erosion, floods, fire and invasions by introduced species. Devise a plan to prioritize sites at risk and come up with mitigation measures.

How can we increase the diversity of RMNP staff? Assess the current situation and existing programs/strategies and provide tools, training, and recommendations.
Examples of previously funded projects:
Fuel Treatment Evaluation $45,000

Map Distribution of Reed Canary Grass and Test Management Strategies $26,000

Understanding Traffic Patterns from Bear Lake Rd Restrictions $50,000

Establishing Long Term Pika Monitoring $15,000

Assessment of Informal Trails and Visitor Created Sites $26,000

Purchase of Trail Counters to Understand Visitor Use $3,000

Engaging Backcountry Traveler in Assessment of Algal Blooms $2,500

Parkwide Leave No Trace Training

$3,000
Last updated: September 3, 2019