Lesson Plan
A Soldier's Notes From Michigan's Big Battle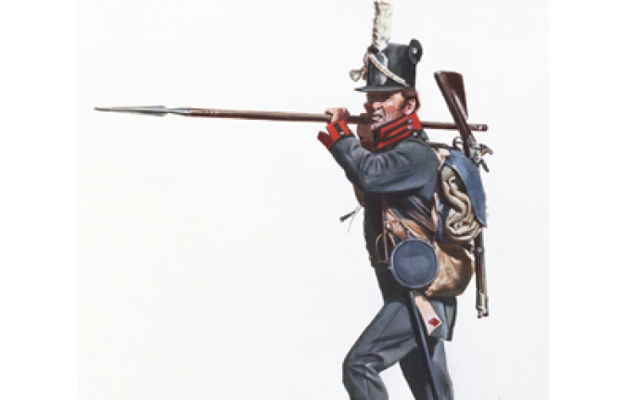 Grade Level:

Sixth Grade-Eighth Grade

Subject:

American Indian History and Culture, History, Military and Wartime History, Social Studies, War of 1812

Duration:

Five to ten sessions

National/State Standards:

National History Standard Era 4 - Expansion and Reform (1801-1861)
English Language Arts Common Core RI.7.4.
Michigan Standard - Challenges to an Emerging Nation 8 U4.2.3
Overview
Students will learn of the Battles of the River Raisin that took place in the Michigan Territory during the War of 1812 in Monroe, MI. This lesson will explore a secondary document that gives a personal account of the days before and during the Battles of the River Raisin. Historians typically analyze the outcome of this war as a stalemate between Great Britain and the United States. However, Native Americans were the big losers in the war. They experienced a huge loss of lives and sovereignty.
Objective(s)
- Analyze United States maps and answer questions that relate to the maps and westward expansion of theUnited States.
- Demonstrate the ability to read a passage from a Journal in 1813, understand what the text says, andarticulate what the text states in order to respond to creative or expository prompts.
- Take a stand on Battlefield preservation evidenced by a written response.
- Design a poster or create a PowerPoint presentation that includes at least 3 resources related to theBattles of the River Raisin.
Background
Before you visit River Raisin National Battlefield Park, prepare your students for what they will experience andprovide them some background information using the curriculums that were developed by fellow teachers.Curriculums available include:
1. "Letters from the Grave" - A 6-day lesson plan for grades 3 to 5
2. "A Soldier's Notes from Michigan's Big Battle" - A 5 to 10 day lesson plan for grades 6 to 8
3. "Analyzing a Battlefield Map & Corresponding Image" - A 2-day lesson plan for grades 7 and 8
4. "Remember the Raisin Adventure" - A 2-day lesson plan for grades 6 to 12
5. "Battle of the River Raisin Pen Pal Project" - a 2 to 3 week lesson plan for grade 8 and up
While the curriculums have been designed for specific grades based upon state and national education standards,you are welcome to utilize any of the curriculums that work best for your students. Below are a few otherquestions you might discuss with them and vocabulary words you might have them look up! There are also somesuggestions for possible activities while traveling to the Battlefield and while at the Battlefield!
Materials
 Copies of reading material and vocabulary sheet
 Drawing paper
 Line paper
 Pencils
 Color pencils
 Computer Access
 Map Study Worksheet
 Maps (3)
 Vocabulary Sheet
 Copy of Journal
Procedure
Each section of the lesson plan follows along with all of the necessary documents. The maps andillustrations can be reproduced in a larger format if that is more beneficial for your class.
Assessment
- Students will complete and discuss the Map Study Worksheet.
- Students will complete Exit Ticket questions.
- Students will complete a drawing illustrating a paragraph from the secondary source and write adescription of their drawing and the reason the drawing is important to the Battles of the River Raisin.When complete, the students will share their project with the class.
- Students will take a position and write about the meaning and value of the River Raisin Battlefield.
- Students will present a poster with at least three resources that related to the Battle of Frenchtown to theclass and retell or explain history of the battle using those images.
Extensions
Have students create a timeline showing the events of the War of 1812. Students can create a timeline by hand or use the printable timeline tool. http://www.readwritethink.org/materials/timeline/
Have students locate and learn about the different French settlements in the United States that planted Ribbon Farms and write two similarities and two differences. Students may look in New Orleans, Detroit and Monroe Michigan to find Ribbon farm history.
Additional Resources
The Remember the Raisin website contains an excellent, detailed history of the River Raisin battle, examples of soldier's uniforms, soldier biographies. www.riverraisinbattlefield.org
River Raisin Battlefield Park website contains information on visiting and supporting the Battlefield in Monroe, Michigan. www.nps.gov/rira
Glogster EDU is a safe and private classroom management platform used by many educators around the world. This resource helps students to create and exhibit online posters.  http://www.glogster.com or http://edu.glogster.com
Check out:
http://www.glogster.com/alysofast/river-raisin-battle-war-of-1812/g-6lcm1n5q4s9vb1p2g9tgga0
Vocabulary
 Captive
 Commerce
 Constrained
 Conquer
 Detention
 Embargo
 Foreign
 Harass
 Hostile
 Impressment
 Jurisdiction
 Maritime
 Plundered
 Port
 Pretentions
 Provocation
 Ravage
 Seizures
Last updated: April 10, 2015