Lesson Plan
Battles of the River Raisin Pen Pal Project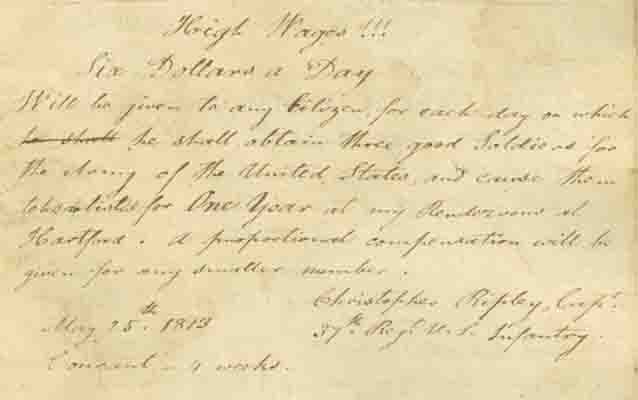 Grade Level:

Eighth Grade

Subject:

Anthropology, Archaeology, Colonial History, Geography, History, Military and Wartime History, Social Studies, Sociology, War of 1812

Duration:

2 to 3 weeks

National/State Standards:

Michigan Social Studies Grade Level Content Expectations
    8 U4.1.2
    8 U4.2.3 Westward Expansion
    8 U4.2.4 Consequences of Expansion
Common Core Standards
    8.W.3
    8.W.6
    8.W.7
Overview
The people involved and impacted by the Battles of the River Raisin were diverse and wide spread. From Kentucky to Upper Canada soldiers and citizens, many of whom were related or well acquainted, had their lives turned upside down by the battles along the River Raisin at Frenchtown and the wider war. Letters home would have provided these individuals with a way to connect to those they loved and allowed them to share their fears and convictions about the tumultuous times in which they lived.
Objective(s)
After completing this lesson students will be able to:
1. Describe what daily life was like for soldiers and citizens alike before, during and after the battle.
2. Discuss key events in the War of 1812 from multiple perspectives.
3. Demonstrate a clearer understanding of how personal conditions effected individual attitudes about the war.
Background
Before you visit River Raisin National Battlefield Park, prepare your students for what they will experience and provide them some background information using the curriculums that were developed by fellow teachers. Curriculums available include:
1. "Letters from the Grave" - A 6-day lesson plan for grades 3 to 5
2. "A Soldier's Notes from Michigan's Big Battle" - A 5 to 10 day lesson plan for grades 6 to 8
3. "Analyzing a Battlefield Map & Corresponding Image" - A 2-day lesson plan for grades 7 and 8
4. "Remember the Raisin Adventure" - A 2-day lesson plan for grades 6 to 12
5. "Battle of the River Raisin Pen Pal Project" - a 2 to 3 week lesson plan for grade 8 and up
While the curriculums have been designed for specific grades based upon state and national education standards,you are welcome to utilize any of the curriculums that work best for your students. Below are a few other questions you might discuss with them and vocabulary words you might have them look up! There are also some suggestions for possible activities while traveling to the Battlefield and while at the Battlefield!
Materials
 The Battle of the River Raisin Pen Pals STUDENT INSTRUCTION SHEET
 The Battle of the River Raisin Pen Pals LETTER SCORING RUBRIC
 The Battle of the River Raisin Pen Pals Project ROLE CARDS
 The Battle of the River Raisin Pen Pals Project CHARACTER KWL CHART (What I Know, Want to Know, or Learned)
 The Battle of the River Raisin Pen Pals Project ROTATION SCHEDULE
 Guide for Writing 19th Century Letters
Procedure
Each section of the lesson plan follows along with all of the necessary documents or where the materials can be obtained. This lesson plan is divided into sections by recommended days, but can be completed in any format that works best for the classroom.
Assessment
Evaluation of each letter is based on the rubric provided. Evaluation of how well the objectives were mastered is assessed by student answers to the essential question based on the rubrics provided.
Additional Resources
The Remember the Raisin website contains an excellent, detailed history of the River Raisin battle, uniforms and soldier biographies. It also includes books and event information. www.riverraisinbattlefield.org

River Raisin Battlefield Park website contains information on visiting and supporting the Battlefield in Monroe, Michigan. www.nps.gov/rira

Letter Writing in America Westward Expansion
http://www.postalmuseum.si.edu/letterwriting/lw03.html

How to Post a Letter, 19th Century Style
http://parkslibrarypreservation.wordpress.com/2011/02/14/how-to-post-a-letter-19th-century-style/

Invaded on all Sides Ralph Naveaux

Letter from a War of 1812 soldier
http://www.iaw.com/~jsek/1812maas.htm

Women During the war of 1812
http://war1812.tripod.com/women.html

Kingwood College Library- American Cultural History: 19th Century 1810-1819
http://kclibrary.lonestar.edu/19thcentury1810.htm

Waking Up as a British Soldier in the War of 1812
http://www.warof1812.ca/morningroutine.htm

The Roles Women Played in the War of 1812
http://umbrigade.tripod.com/articles/women.html

Canadian Perspective on the War of 1812
http://www.pbs.org/wned/war-of-1812/essays/canadian-perspective/

The Battle of French Town the Canadian Encyclopedia
http://www.thecanadianencyclopedia.com/articles/battle-of-frenchtown

A Soldier's Family in the British Army during the War of 1812
http://www.warof1812.ca/family.htm

The History of the Upper Midwest: An Overview
http://memory.loc.gov/ammem/umhtml/umessay2.html

Native American Facts for Kids
http://www.native-languages.org/kids.htm
Vocabulary
 Captive
 Commerce
 Constrained
 Conquer
 Detention
 Embargo
 Foreign
 Harass
 Hostile
 Impressment
 Jurisdiction
 Maritime
 Plundered
 Port
 Pretentions
 Provocation
 Ravage
 Seizures
Last updated: April 10, 2015