Curriculum-based Programs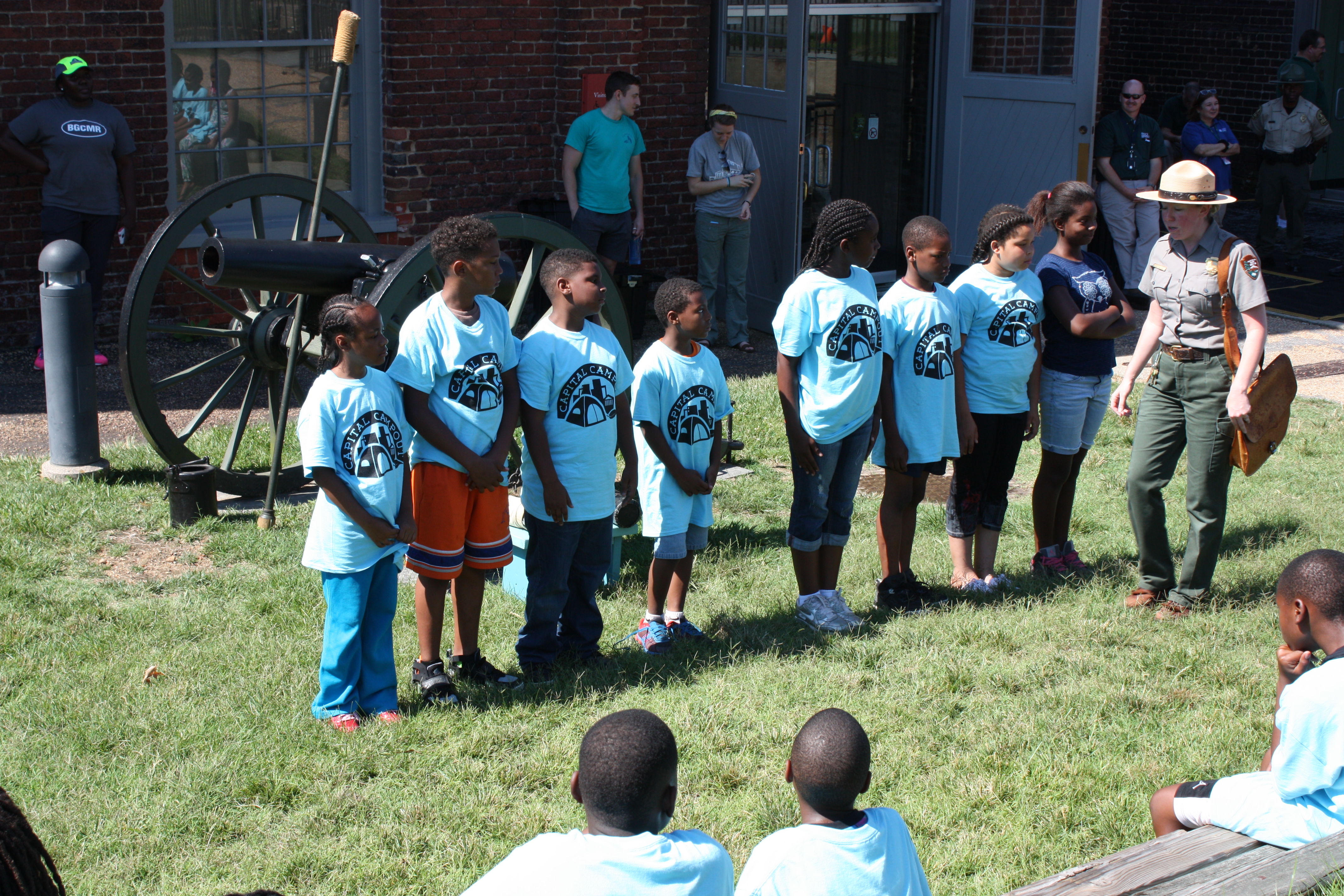 All programs are free, but require a reservation. Reservations fill up quickly, please book as soon as possible. Contact the education department to personalize and book a field trip at 804-771-2018 or by email.
EDUCATION PROGRAMS AT TREDEGAR IRONWORKS
470 Tredegar St., Richmond VA 23219
The Cannon's Roar (4th - 12th grade): Artillery played a critical role in the Civil War. To understand the importance of cannon and the teamwork necessary to operate them, students role-play an 8-member artillery crew with historically accurate equipment in this 30 minute program. Students will investigate and explore a cannon that was made at Tredegar Iron Works and used during the Civil War.
SOLs: History VS.1(c,d,e,f,g), VS.7(a,b,c), VS.8(c), USI.1(b,d,i), USI.9(d,f), USII.1(b,d,i), VUS.1(c,d,i),VUS.7(b)
Treasures at Tredegar (4th - 8th grade): The city of Richmond, center of governmental, political, social, economic, military and industrial activity, was important to both the North and the South. During this 35 minute program at Tredegar Iron Works, students will gain a better understanding of Richmond's vital role during the Civil War as they participate in a treasure hunt through the museum's exhibits.
SOLs: History VS.1(a,d,e,h), VS.7(b,c), USI.1(b,d,e,i), USI.9(d,f)
The Common Soldier of the Civil War (4th - 12th grade): In this 30 minute presentation, a National Park Service Ranger provides a duffel bag of Civil War uniforms, equipment and items related to the everyday life of the common soldier. Students hear the stories of Union and Confederate soldiers who fought around the Richmond area as well as other major battles of the Civil War.
SOLs: History VS.1(a,e,f,g), VS.7(b,c), USI.1(b,d,i), USI.9(c,d,f), VUS.7(b,e)
Mills, Waterwheels and Raceways (3rd grade): This 45 minute program is designed especially for the 3rd grade. The James River and Kanawha Canal provided waterpower for Richmond's early industry at Tredegar Iron Works where both black and white civilians were employed. Students participate in a ranger-guided tour of this site where they observe canals, mills, raceways, and waterwheels. Grid maps and models of Tredegar Iron Works will emphasize the importance of water to this site.
SOLs: History 3.5(e), 3.6, 3.7, 3.8; Science 3.2; English 3.1
Civil War Engineering (4th - 12th grade): This 1 hour program is designed to elaborate on the importance of army engineers to the battlefield. While visiting Fort Harrison or Cold Harbor, students learn the techniques used to build the earthworks, create obstructions and the 19th century technology that helped both sides during the war.
Battlefield Tours (4th - 12th grade): Schools are encouraged to visit the battlefields for a 1 hour tour of the site. Each tour will cover the specifics of the battle, stories of individual soldiers, the landscape and the civilians caught in the crossfire. Tours can be booked at any of these locations: Cold Harbor, Gaines' Mill, Fort Harrison and Malvern Hill. (Battlefield tours can also be combined with Common Soldier, Engineering and Cannon's Roar.)
Facilities on Premises:
Restrooms/ Picnic area including tables and water fountain.
Please bring trash bags for clean-up.
Bookstore--Teachers may pre-order souvenir bags for the group.
Battlefield facilities vary depending on site. Please call the Education Department for more information.
Handicapped Provisions: Yes