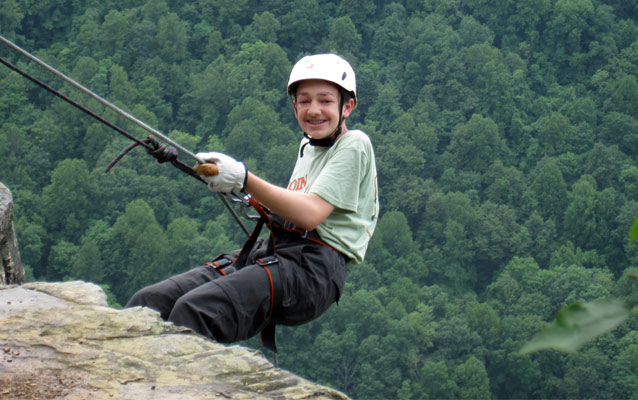 NPS/NERI
Quick Facts
GETTING READY FOR 2016:

Action Item:

A Class Act

Also Promotes:

Step by Step

Year Accomplished:

2013
New River Gorge National River (NERI) adopted 30 students from a middle school in neighboring Raleigh County in 2012. Currently, these 9th grade students at Woodrow Wilson High School are participating in education programs, service learning projects, and recreation adventures that will teach them about the National Park Service, New River Gorge National River, and their local community. The program is also designed to enable students learn about career opportunities and to develop leadership and communication skills by working with younger youth. 
Recently, participants experienced the Rangers-In-Training Program, offered to underserved youth in three neighboring school districts. This week-long program introduced youth to the park's resources through fun, educational adventures including hiking, swimming, mountain biking, archery, rock climbing, and white water rafting. Each day, youth engaged in these recreational activities alongside NPS employees representing all park divisions. This allows youth to be exposed to a variety of jobs in the park and to interact one on one with park employees about their daily work activities. 
During the hiking adventure, students explored trails in the Middle Gorge with a biological technician who engaged them in conversation and identified plants and flowers of this forest that is one of the most diverse in the Appalachians. Students who participated in Mountain Biking adventure were accompanied by members of the park's maintenance staff who shared information about trail design, construction, and maintenance while also providing oversight of youth on the trail. Members of the visitor and resource protection staff accompanied Class Act participants during the climbing, rappelling, and archery adventures. They provided safety messages, monitoring, and coaching for these activities while also sharing information about the park's vertical resource – the sandstone cliffs. The adventures culminate in a white water rafting adventure led by the park's river rangers who also share their knowledge of the hydrologic features and aquatic habitats of the river. The park's education specialist leads the daily programs accompanied by other members of the interpretive division.
Class Act participants had a blast during these fun, adventures, while also connecting with the park's fundamental resources. The program's success is due in large part to the fact that the educational components of the program are shared by a variety of NPS staff in an interactive setting. This program also serves as a feeder for the park's youth employment program as youth who demonstrate interest in the program can apply for youth leader positions in their second year. This opportunity is certainly open to the park's adopted students. The calendar of activities for the Class Act program is full for the next few years with activities that cut across all park divisions. This Call to Action item is already proving to be a great adventure for both the participants and park employees.