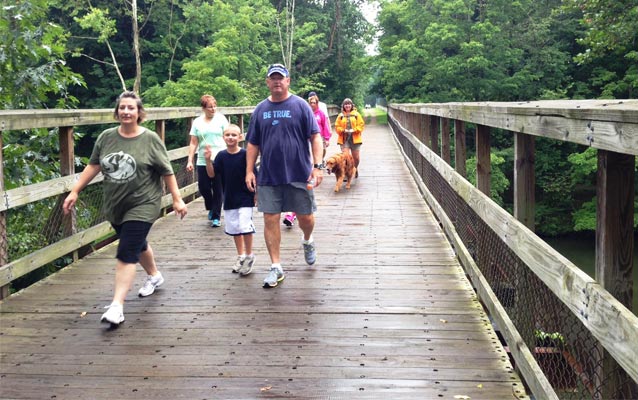 Delaware and Lehigh National Heritage Corridor
Quick Facts
GETTING READY FOR 2016:

Action Item:

Take a Hike, Call Me in the Morning

Also Promotes:

In My Back Yard

Year Accomplished:

2013
Get Your Tail on the Trail is a community wellness initiative that strives to get people off the couch, get moving and get healthier by taking advantage of the amazing outdoor resources in our own backyards.  St. Luke's University Health Network  (SLUHN) and the Delaware & Lehigh National Heritage Corridor (D&L) have partnered to produce this community initiative which encourages participants to take the "165 Mile Challenge" to walk, run or bike a total of 165 miles from June through October.  Participants receive a welcome packet and are encouraged to log their miles. They receive token incentives for reaching specific mileage goals.
Get Your Tail on the Trail is heavily promoted through social media, website promotions and a series of outdoor Special Events at regional trailhead locations.  Healthy nutrition information and other lifestyle tips are shared through St. Luke's Live Your Life program, further connecting participants with resources to improve their wellness.  The program is five months into the original six planes, but, it is showing signs of great success with more than 2,250 participants having logged more than 160,000 miles! 
"Our company has been involved for years in creating and sustaining community health partnerships that aim to improve population health.  Programs such as Get Your Tail on the Trail bring physicians, administrators, nurses, staff and patients together in an atmosphere far removed from hospital -based environments, yet with similar overall goals to sustain and improve health, " states Kenneth Szydlow, St. Luke's Vice President for Marketing and Public Relations.
"St. Luke's is very excited to partner with D&L to encourage the Lehigh Valley and surrounding areas to become more active by walking, running or biking on the beautiful local trails," said Bonnie Coyle, MD, Director, Community Health Department, St. Luke's University Health Network. "Daily exercise increases strength and endurance, helps to maintain a healthy weight, decreases the risk of developing Type 2 diabetes and provides you with a more restful sleep.  Benefits of regular exercise include an improved self-esteem, especially for children and adolescents".
St. Luke's and the Delaware and Lehigh National Heritage Corridor are actively planning to create additional challenges for the winter and spring seasons.
Sign up at: http://tailonthetrail.org/