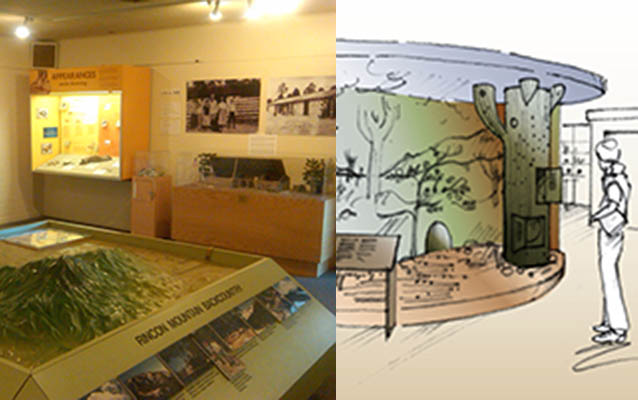 NPS Photo and EDX design
Quick Facts
GETTING READY FOR 2016:

Action Item:

Out With the Old

Also Promotes:

Go Digital

State:

Arizona

Year Accomplished:

2012
The Rincon Mountain Visitor Center is a recognized example of Mission 66 architecture with simple lines and soaring views from the windows.  Over the years, half of those windows were covered up to create a dark theater space and the exhibits in the other half were original to the building and no longer relevant to our visiting public.  Our Friends of Saguaro National Park worked for several years to raise the matching funds to the Federal Lands Recreation Enhancement Act (FLREA) money set aside to complete the work.  In 2012 the physical renovations to the building were completed, including swapping the theater and exhibit spaces to take advantage of the dark room (which was exhibit room - now the theater) and bright window filled room (which was the theater - now exhibit room).
This improved space is being designed through a design build exhibit Indefinite Delivery, Indefinite Quantity (IDIQ) contract, courtesy of the Harper's Ferry Center and the Arizona Major Acquisition Buying Office (MABO) as the service office.   The park has already completed initial design schematics with the contractor partnership of Color-Ad and EDX design, and is moving towards installation in the summer of 2014.
These new exhibits are being designed to be tactile, interactive and universal.  In addition Western National Parks Association is sponsoring and building a digital interface to better assist visitors in planning their visit and securing necessary permits for back country adventures.  This digital interface will also become an app, downloadable via the WiFi provided by WNPA to the visitors and will allow for expanded content referred to by the exhibits themselves.  So that if a visitor finds an interest in one of the subject, there is another digital resource available to them via their smart phones at that exhibit.  "If you want to know more…. Go here" with options to download additional information as a webpage, digital app or as directions to a specific location in the park.