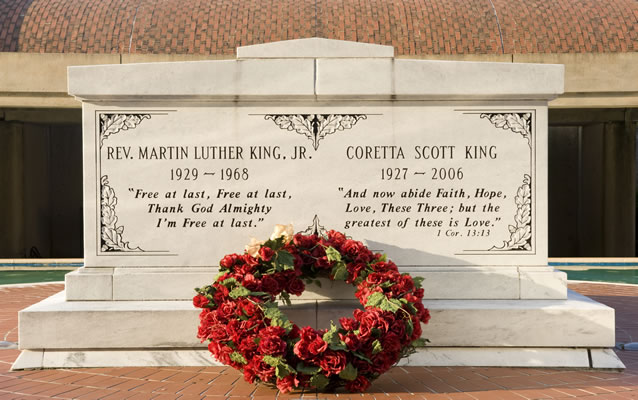 Gary Tarleton, HFC, NPS
Quick Facts
GETTING READY FOR 2016:

Action Item:

Keep the Dream Alive

Also Promotes:

History Lesson

Year Accomplished:

2013
On Monday, January 21, 2013, in observance of Rev. Dr. Martin Luther King, Jr. Birthday and National Holiday Martin Luther King, Jr. NHS along with our partners The King Center and Ebenezer Baptist Church hosted more than 3,000 people honored the work and memory of Dr. King by participating in several events.  Events included the Day of Service projects throughout the City of Atlanta; historic tours of Ebenezer Baptist Church and Dr. King's Birth Home; and, the Annual Commemorative Service which highlighted keynote speaker Rev. Samuel Roderiquez, President, The National Hispanic Christian Leadership Conference.   The activities empowered individuals, strengthened communities, bridged barriers, created solutions to social problems, and moved us closer to Dr. King's vision of a beloved community.  The events concluded with a March and Rally and the showing of President Barack Obama being sworn in with Dr. King's personal bible during the 57th Presidential Inauguration at the Visitor Center and Ebenezer Baptist Church.
Superintendent Judy Forte, Martin Luther King, Jr., NHS delivered the Bible owned by Rev. Dr. Martin Luther King Jr., to the Presidential Inauguration Committee in Washington, DC on January 19, 2013 to be used for the first time as a part of a presidential inauguration.  Without media attention, Superintendent Forte travelled to Washington with Dr. King's Bible in her backpack.  She stated "it was a humbling feeling to know in a small way, I was connecting two significant events in America's history.  Dr. King's vision he articulated so well in his "I Have a Dream Speech" while standing on the steps of the Lincoln Memorial on August 28, 1963, and the swearing in of the first African American President of the United States for the 2nd time, on King Holiday, January 21, 2013".
Superintendent Forte stated "this was the highlight of my career; I saw my role in this historic moment as a reflection of the extraordinary progress we've made as a nation. ".   President Obama and Chief Justice Roberts both made personal inscription in the bible.  President Obama's inscription,  reminded us that we all stand on the shoulders of Dr. King who helped America lived up to the meaning of it creed".
King's Bible was one of two President Obama used for the ceremonial inauguration the other Bible belonged to President Abraham Lincoln."