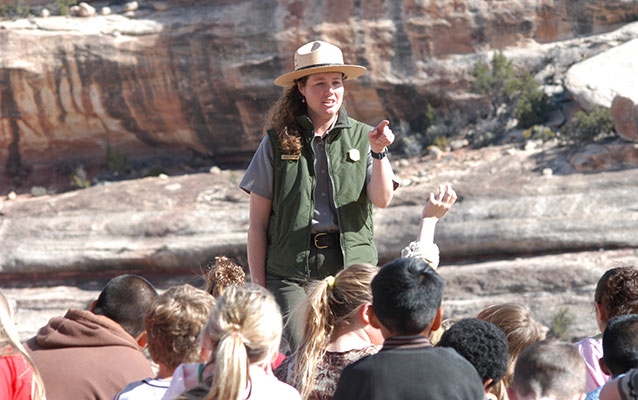 NPS/Neal Herbert
Quick Facts
GETTING READY FOR 2016:

Action Item:

Live and Learn

State:

Utah

Year Accomplished:

2011
The Canyon County Outdoor Education (CCOE) program is a NPS program that brings students into the national parks of southeastern Utah and surrounding public lands. Both inside the traditional classroom and out in the amazing ecologically diverse outdoor classroom of southeastern Utah, uniformed park rangers teach about natural processes and the cultural resources in our environment; how to properly use them; and how to leave them unimpaired for future children to learn in and enjoy. During these lessons, CCOE creates opportunities for students to develop lifelong connections to their local landscape, which along with a foundation for environmental literacy will influence their choices as adults. 
Each year CCOE staff conducts 136 field trips and over 350 classroom presentations for a total of 11,000 student contacts with K-6 students in the eight elementary schools of Grand and San Juan counties. We provide opportunities for students and their parent chaperones to visit
Arches
and
Canyonlands
 national parks,
Natural Bridges
and
Hovenweep
 national monuments as well as several surrounding BLM and Forest Service sites. And, because we repeatedly work with the same kids, we have the opportunity to build relationships with them. Students grow to see park rangers as a valuable part of their community.