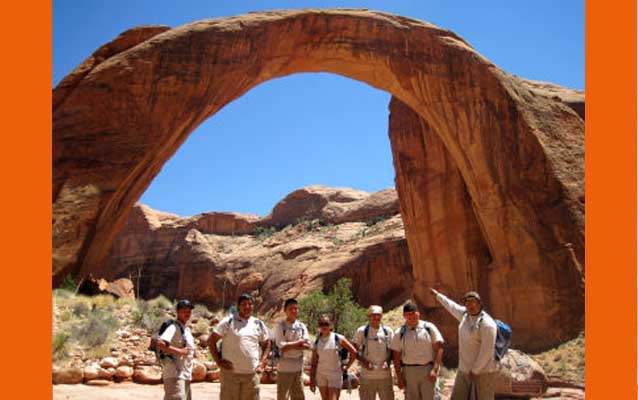 Jordan Pina
Quick Facts
GETTING READY FOR 2016:

Action Item:

Next Generation Stewards

Year Accomplished:

2013
For the third consecutive year, the Native Conservation Corps program has played an integral role in developing the next generation of public land stewards.  During June and July, seven Native American youth were exposed to a diverse set of career opportunities at Glen Canyon National Recreation Area, Rainbow Bridge National Monument, and the Grand Staircase-Escalante National Monument.  Participants gained hands on training and experience in vegetation and wildlife stewardship, and were introduced to careers in management, interpretation, archeology, paleontology, rangering, and facilities management.  Participants developed outdoor living and recreation skills through camping and cooking in the great outdoors, and by hiking and paddling the local gems. Participants provided park visitors with a unique opportunity to learn about their Native American cultures by conducting an evening campground program. This program continues to build bridges between Native American communities and the National Park Service, and develop diverse young stewards who are eager to preserve and protect park resources and their native heritage. 

In 2014, project coordinators are planning to expand this program to include additional National Park Service and other federal land management units. If you are interested in hosting Native Conservation Corps in 2014, please contact Sarah Herve (Ph. 928-524-6228), Todd Hisaichi (Ph. 520-678-3358), or Lonnie Pilkington (Ph. 928-608-6269).

Native Conservation Corps would like to thank the following program supporters: Glen Canyon Natural History Association, Grand Staircase Escalante Partners, The Walton Family Foundation, Petrified Forest Museum Association, National Parks Conservation Association, Petrified Forest National Park, Grand Canyon National Park, Lake Powell Paddleboards, Navajo Nation Parks and Recreation, and numerous individual volunteers.