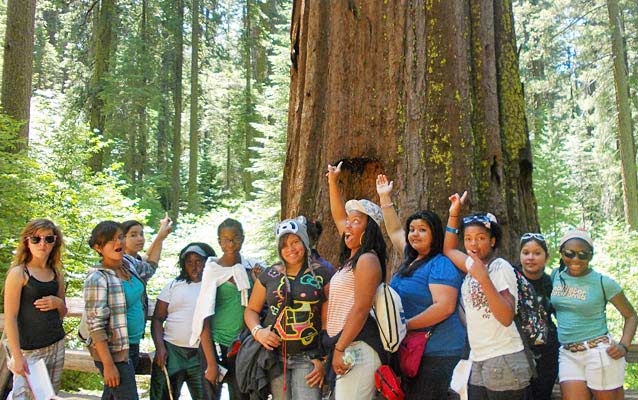 NPS Photo
Quick Facts
GETTING READY FOR 2016:

Action Item:

Stop Talking and Listen

Year Accomplished:

2012
The Rosie's Girls program celebrated its fourth successful season as a partnership between the National Park Service, the YMCA of the East Bay, the Rosie the Riveter Trust (the park's supporting organization), the West Contra Costa Unified School District, and the City of Richmond.  In 2012, the program served 23 young women of middle school age.  The role of the National Park Service in the program is to orient the girls to the historic sites and stories of Rosie the Riveter/WWII Home Front National Historical Park.  The girls toured the park's visitor center, saw the park orientation film, and rode bicycles to a few of the park's key sites, including the Rosie the Riveter Memorial, and along the San Francisco Bay Trail.  Park staff also planned field trips to other Bay Area national parks.   The girls visited San Francisco Maritime National Historical Park, where they learned how to raise the sails and steer the historic Alma schooner, led by an experienced female crew member.  The girls also met two female mounted US Park Police officers who work in the Presidio, and got to feed and brush the police horses.  For the 2nd year in a row, the program has culminated in a final challenge: a multi-day camping trip to Yosemite National Park, thanks to the support of Nature Bridge.  For many of the girls, this is the first opportunity they have ever had to leave their hometown, and to experience the wonders of the wilderness. 
The Rosie's Girls program introduces the girls to skilled trades such as carpentry and welding.   Aside from acquiring skills in nontraditional careers, the program also helps them build self confidence by promoting the themes of female empowerment and equal opportunity that this national park embodies.  Rosie's Girls takes its name from the WWII-era female icon of "Rosie the Riveter." 
This year's program featured two 3-week sessions, one for "Apprentice" girls (girls in younger grades), and one for "Journeywomen" (older girls, and those returning for a 2nd season.)  The Apprentices learned carpentry, and the journeywomen concentrated on welding bicycle racks, partially funded by a grant from the City of Richmond's Neighborhood Public Art Program.  A 5-minute video documenting the welding project, produced by local youth videographers, the Green Screen Team, was debuted at the program's closing ceremony.  The video can be viewed at http://tinyurl.com/rosiesgirls2012.  The bicycle racks will be permanently installed on the Richmond Greenway and the film and racks will be exhibited at the Richmond Art Center in September.
Contact:  Lucien Sonder, Outreach Specialist, (510) 232-5050 x6622