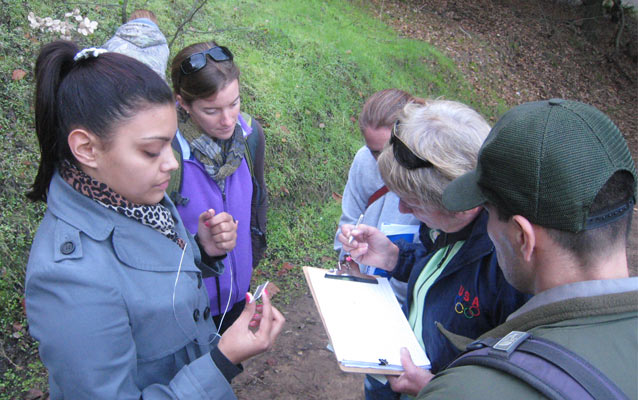 NPS Photo, 2011
Quick Facts
GETTING READY FOR 2016:

Action Item:

Next Generation Stewards

Year Accomplished:

2012
John Muir National Historic Site(JOMU) has developed a partnership with Martinez Unified School District (MUSD). In particular, JOMU works directly with an alternative learning high school program named New Leaf: A Sustainable Living Collaborative.  The goal of this relationship is to create experiential learning programs for and with students, provide professional development opportunities, and establish a reproducible and sustainable youth partnership model.  This efforts approach uses place-based education, which focuses on local environs -- both social and physical -- to provide transformative learning experiences. The key idea is that by first learning about, and being engaged in, locally tangible issues, students can better understand broader, less tangible topics, such as the global consequences of environmental destruction. 
Thus far, the focus in implementing these goals has been on a group of roughly 50 high school students from New Leaf. Once programs have been piloted and enhanced, the next step is to increasingly engage more MUSD students.   For example, New Leaf students - serving as educators - piloted a "Parks as Classrooms" program, which served more than 100 elementary students. Additionally, the partnership developed a phenology monitoring internship.   Phenology is the study of seasonal biological events. JOMU is one of seven pilot parks of the California Phenology Project, a California-wide program initiated by the CESU that seeks to create and test protocols and tools for implementing long-term phenology monitoring of plants, public engagement methods, and climate change education.
Not only do interns collect valuable data, they also help with educating others about phenology and training future observers.  In return, this internship offers a valuable experience. It provides tools and knowledge for observing nature, and helps students to develop transferable job skills and reflect on their future careers. Furthermore, while learning about local resources, the interns have gained a better understanding of how climate change can affect people and the environment on a global scale. Due to the success observed with the phenology monitoring interns, JOMU and MUSD are exploring ways to expand and replicate internships into other areas. A product that has come out of these discussions is a four-tiered internship model. The first level will be an unpaid trainee position, and once the interns meet certain performance standards they are paid an hourly wage, which increases as they advance up to the following levels. Additionally, all interns receive academic credit to help fulfill graduation requirements.
Fernando Villalba, Natural Resource Specialist