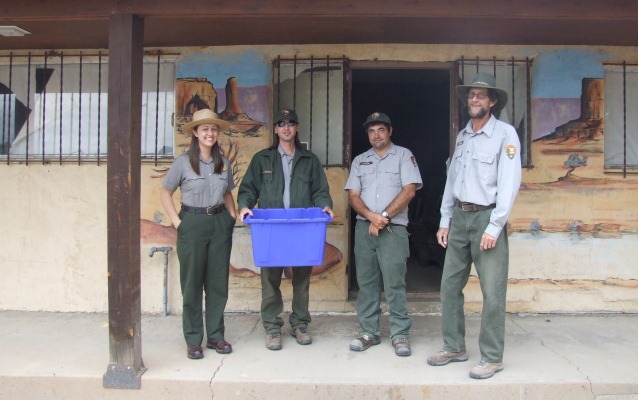 NPS Photo
Quick Facts
GETTING READY FOR 2016:

Action Item:

Go Green

Year Accomplished:

2013
With the National Park Service's Go Green Initiative come changes at Aztec Ruins National Monument.  To better support the initiative and improve our site, we founded the Recycling Committee, made up of representatives of each division in the monument.  So what is Aztec Ruins National Monument doing to be "green?" 
We are recycling batteries, electronics, printer cartridges, fluorescent light bulbs, aluminum and tin cans (as well as scrap metal), mixed paper, newspaper, glass, plastic bottles, grocery bags, and cardboard.  In addition, we are purchasing and using items manufactured with recycled materials, such as paper towels, toilet paper, printer paper, and printer cartridges.  We purchase eco-friendly glass cleaner and disinfectant, and cut back from five different types of cleaning products to only two.  We only use energy-efficient light bulbs that use low wattage, and every building has a compost bin.
Aztec Ruins National Monument has started to hold annual recycling collection drives for America Recycles Day to encourage the community to recycle more.  Games and other activities include children in the event.  For the past five years, we have also held an annual Earth Day Celebration, inviting several earth-friendly organizations to set up booths and teach the public about ways to "go green."