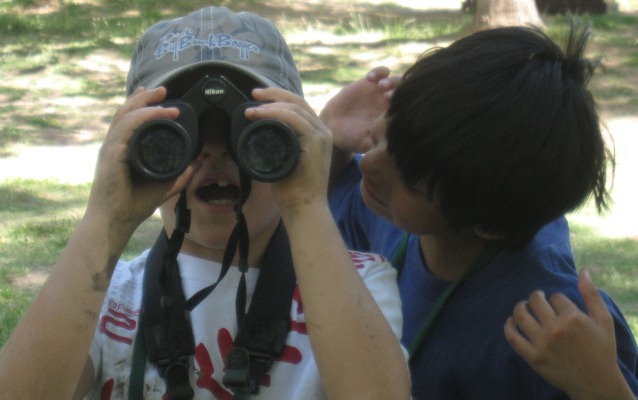 NPS Photo/Sharlot Hart
Quick Facts
GETTING READY FOR 2016:

Action Item:

History Lesson

Also Promotes:

Next Generation Stewards

State:

Arizona

Year Accomplished:

2012
Junior Ranger camps explore the Montezuma Well unit of Montezuma Castle National Monument for a week each, Tuesday through Friday.  This year 40 kids joined Park Rangers and Teacher-Ranger-Teachers to learn about the sites, prehistoric life, and park stewardship. We take hikes, have discussions and hands-on activities.  We made tons of cool stuff that the campers take home, including yucca-fiber bracelets and sunprints!
The Junior Rangers reported that they loved most 'Building Like a Sinagua', where they got to get muddy while mixing mortar, stacking limestone rocks, and engineering windows.  The activity was done at the First Overlook, right above two, 800-year-old cliff dwellings.  Hands-on activities also included a simulated-dig where kids dug up 'artifacts' (a painted flower pot, corn and shells) in a sandbox.  They used a Cartesian grid and their field journals to explain what function their 'room' may have served.  A planet-walk linked with an archeoastronomy lesson led to the kids making their own petroglyph.  One goal of the camps is to help kids link our cultural history with the natural world today.
This year's camps included the first ever Returners' Camp.  Graduates from previous summer camps were invited to attend and experience all new activities.  Ten Junior Rangers completed the week with flying colors - including a section entitled "Be An Interpreter".  In small groups, these experienced Junior Rangers chose activities they enjoyed and then put together their own demonstration carts.  One team chose to inform visitors about split-twig figurines, and helped other kids make their own out of pipe cleaners.  More than 70 informal visitor contacts were made by just one of the teams!