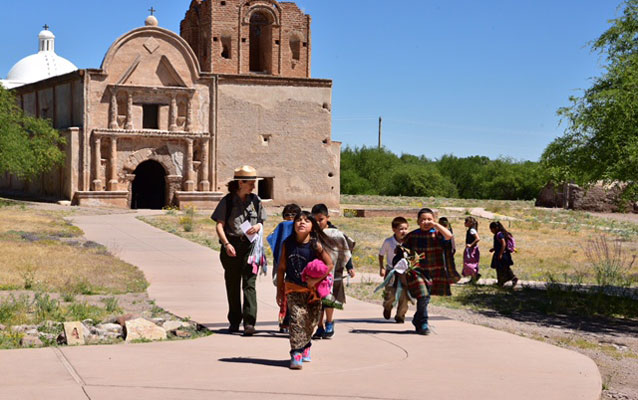 Pat Christman
Quick Facts
GETTING READY FOR 2016:

Action Item:

Ticket to Ride

Also Promotes:

Live and Learn

State:

Arizona

Year Accomplished:

2016
As the school year comes to a close, so do the funds granted to Tumacácori National Historical Park by the National Park Foundation's Ticket to Ride program supporting transportation costs for schools from Santa Cruz and Pima counties coming on educational field trips. The $5,000 set aside to subsidize buses will, by the end of the school year, have delivered more than 1,000 students to Tumacácori for curriculum-based field trips. That is nearly 500 more visits than the previous fiscal year –an increase of almost 45%. These students will have come from schools in San Xavier, Tucson, Patagonia, Sahuarita, Rio Rico, and Nogales. Without the transportation grants, many schools would not be able to experience the educational and recreational benefits of Tumacácori.
Tumacácori's rich story covers historical themes that Arizona fourth graders study in classrooms across the state. The field experience uses the park's unique historic structures, garden, orchard, and river corridor to bring these themes to life. Students immerse themselves in mission life, solve mysteries, and explore STEM-based problem-solving. Ranger-guided programs are hands-on, inquiry-based, and fun. Pre-trip and post-trip lessons reinforce concepts and context while providing the teachers with valuable assessment tools.
The Ticket to Ride program not only enriches the curriculum-based environment, it also exposes students to the many other programs and activities available at parks throughout the national park system. Hundreds of students traveling to Tumacácori with Ticket to Ride funds went home with Every Kid in a Park 4th grade passes. They will be able to visit national parks with their families for free all summer long. Tumacácori anticipates increased numbers of hikers along the Juan Bautista de Anza National Historic Trail, participation in the Junior Ranger program, and attendance at park events.
As the National Park Service enters its next 100 years, the significance of its education mission is likely to expand. We welcome partners like the National Park Foundation, local school districts, and transportation providers to help keep national parks as relevant and accessible resources for teachers and students.