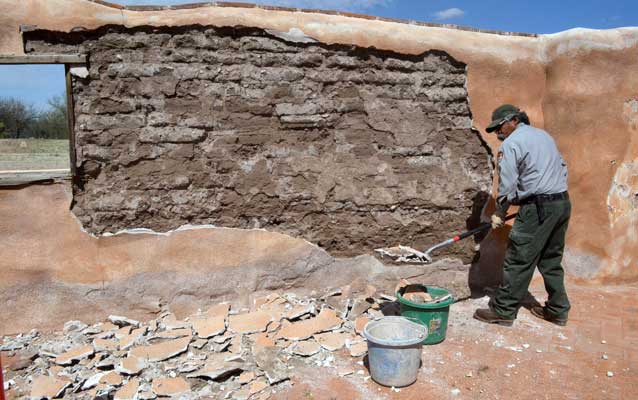 NPS Photo
Quick Facts
GETTING READY FOR 2016:

Action Item:

History Lesson

Also Promotes:

What's Old is New

State:

Arizona

Year Accomplished:

2016
From March 14-18, Tumacácori National Historical Park hosted over 100 participants in the 2016 Taller Internacional de Conservación y Restauración de Arquitectura de Tierra (TICRAT). Also known as the International Workshop on the Conservation and Restoration of Earthen Architecture, TICRAT is a bi-national, hands-on workshop focused on learning the traditional  techniques and materials of conserving earthen architecture, adobe, lime plaster, and painted plaster. The workshop series was started in 1994 in partnership with Mexican counterparts with INAH (Instituto Nacional de Antropología e Historia). Each year, the workshop alternates being held in the United States and Mexico, with all sessions taught in English and Spanish. 
In celebration of the NPS Centennial, this year's TICRAT involved more partners than any previous event. The workshop was attended by over 100 preservation specialists, including 37 NPS employees from 14 parks, along with IMR and WASO staff. Additional participants came from INAH's protected sites, regional and national offices; tribal organizations; non-profits; six U.S. universities; two Mexican universities; private industry; and federal, state, and county government agencies. The event was coordinated to highlight cross-border as well as domestic partnerships with workshop stations held at Empire Ranch (BLM), Tubac Presidio State Historic Park (Arizona State Parks), and Canoa Ranch (Pima County Natural Resources, Parks and Recreation), and Mission San Xavier del Bac (Tucson Diocese of the Catholic Church & Tohono O'odham Nation).  
"We wanted to use the occasion of the 100th anniversary of the NPS to showcase the long history of the TICRAT as well as the diverse partners we work with to improve the stewardship of earthen architecture" said Bob Love, Superintendent at Tumacácori NHP. "To celebrate the NPS Centennial year and TICRAT workshop series, we included a diversity of partners from both Mexico and the U.S. to recognize their valuable contributions to preservation." 
This year's event also included a presentation of the Director's Partnership Award to R. Brooks Jeffery, Director of the Drachman Institute and Chair of the Heritage Conservation Program at the University of Arizona. The award was presented by Dr. Stephanie Toothman (Associate Director of Cultural Resources, Partnerships, and Science)  to recognize Mr. Jeffery's 15-year partnership with the NPS, the Desert Southwest Cooperative Ecosystems Study Unit (DS-CESU), and facilitation support of the TICRAT workshops.  
Coordination for this year's TICRAT was provided by Tumacácori National Historical Park. Funding was provided by the Southwest Border Resource Protection Program through the Desert Southwest CESU.  
For the full report on the 2016 TICRAT, visit: www.nps.gov/tuma/learn/historyculture/TICRAT.htm  or contact Adam Springer at Adam_Springer@nps.gov or (520) 377-5090