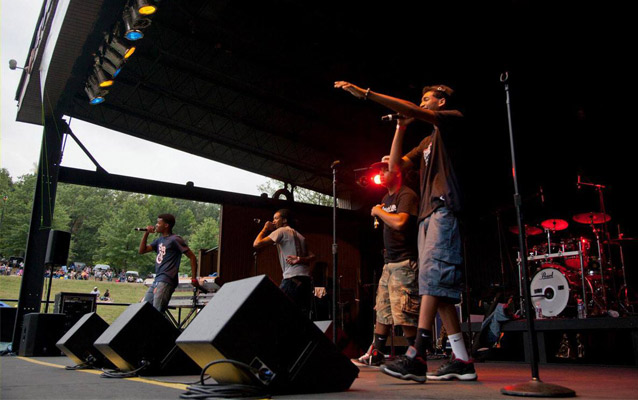 NPS
Quick Facts
GETTING READY FOR 2016:

Action Item:

Arts Afire

Also Promotes:

Step by Step

Year Accomplished:

2013
The arts are afire in the Northeast region of the National Park Service. A new video on YouTube features young people connecting with national parks through non-traditional methods such as visual art, music, dance, and landscape architecture.

As part of the Park Stewards program, youth from New Bedford, Massachusetts spent six weeks learning various art forms and visiting artists-in-residence programs at Weir Farm NHS, Frederick Law Olmsted NHS, and Saint-Gaudens NHS. High School students worked with artists and park rangers to learn about painting, sculpture, and landscape architecture while creating their own art for a temporary exhibit on display at the Corson Maritime Learning Center in New Bedford.  

Another youth program that is utilizing visual and performing art to communicate national park messages is the Youth Ambassador Program (YAP!). For over 3 years, the Youth Ambassadors have been creating national park-themed music and videos and sharing them through live performances and social media outreach.  To inspire their music, Youth Ambassadors have visited national parks such as Boston African American NHS, African Burial Ground NM, Frederick Douglass NHS, Statue of Liberty NMem, New Bedford Whaling NHP, New England NST, National Mall, and Harriet Tubman NM. In their latest effort, Keep it Sustainable, YAP! encourages youth to "lower carbon footprints, recycle more, and take care of the earth because the world is yours."

Frederick Law Olmsted NHS's Good Neighbors: Landscape Design & Community Building is an active, place-based education program that fosters appreciation of the value of public parks in young children. Students use park resources such as the design office, archival collection, and model shop to explore landscape design and learn why parks are important for people, and begin to imagine their own role in the care and stewardship of these special landscapes.

The Park Stewards Arts Afire program was made possible through a partnership between New Bedford Whaling National Historical Park, the Rivers, Trails, and Conservation Assistance Program, the New England Foundation for the Arts, and New Directions with support from all of the host parks who welcomed program participants. The Youth Ambassador Program is a partnership with the National Park Service and Third Eye Youth Empowerment.