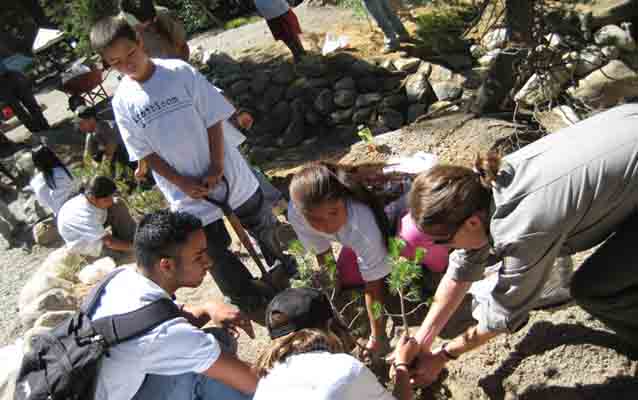 NPS
Quick Facts
GETTING READY FOR 2016:

Action Item:

Live and Learn

Year Accomplished:

2012
With the help of the Bishop Paiute Tribe Environmental Management Office and initial support from the National Park Foundation's First Bloom program in 2009, Devils Postpile National Monument has been working with local tribal youth for the past three years to discover national park sites in their "backyard" and to learn about stewardship on public lands and in their community.
Although the First Bloom program no longer officially exists, this program carries on the name and some of the work initially established by that program. Staff from Devils Postpile and the Bishop Paiute Tribe Environmental Management Office works with tribal youth in 4th and 5th grade and meets with those students at least one time each month for either a service learning project, an educational program, or a field trip focusing on public land conservation, native plants, and national parks.
In 2011, 27 youth participated in the program. They planned, designed, and planted a native plant garden at the local Head Start Center, visited and performed service learning projects at Death Valley and Yosemite National Parks, Manzanar National Historic Site, and at Devils Postpile National Monument. The participants not only learned about natural resources at these sites, but cultural resources as well. At all of the park sites, they learn about native cultures and connections to their cultural heritage.
The program has also expanded to incorporate multigenerational learning and involvement. Tribal Elders, parents, and siblings of the "First Bloomers", as the participants are called, are all encouraged to attend meetings, events, and field trips, and many of them do. Incorporating this type of involvement not only expands the reach of the program, but helps to connect and engage families in the learning process.
The program has now reached over 100 youth from the Bishop Paiute Tribe and created and built upon partnerships with multiple national park sites, federal and state agencies, and tribal programs including the tribal liaison program at the local elementary school, Tuniwa Nobe Family Literacy Program, and the Environmental Management Office. The First Bloomers have now completed stewardship-based projects at four national park sites and one BLM site, planted and maintained four community native plant gardens, and look forward every year to their next national park adventure. For more information about the program, contact Maureen Finnerty at 760-924-5505.