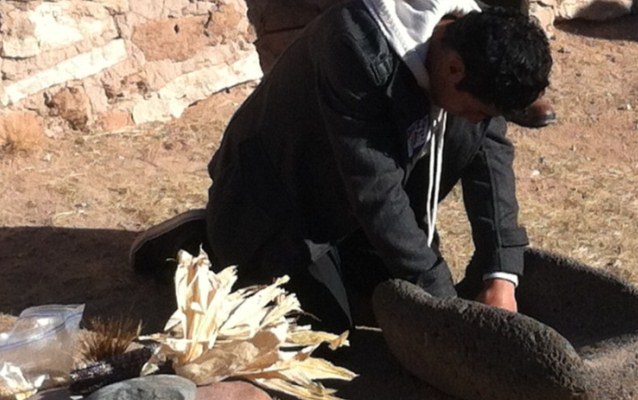 NPS Photo
Quick Facts
GETTING READY FOR 2016:

Action Item:

History Lesson

Also Promotes:

Go Digital

State:

Arizona

Year Accomplished:

2011
Last December, military kids from across Arizona spent thier Saturday creating podcasts to tell their own digital stories linking resiliency and other life skills with the people who lived in the prehistoric pueblo at Tuzigoot.  The event, Stories with a View, was so successful plans are in process to make it an annual event.  It was created in partnership with Arizona Operation: Military Kids, a University of Arizona Cooperative Extension 4-H and Department of Defense program, and Tuzigoot National Monument.   Operation: Military Kids (OMK) connects the children of National Guard and Reserves service members in the deployment cycle, "with local resources in order to achieve a sense of community support and enhance their well-being."  In this specific partnership their Mobile Technology Lab was used to help kids gain leadership, organizational and technical skills.
For the Stories with a View program military kids became Junior Archeologists for the day.  NPS rangers from both the Interpretive (Visitor Services) and Resource Management divisions started out the day with a tour of the site, including the pueblo and newly renovated museum.  Military kids discovered the history and explored the perspectives of the prehistoric peoples who lived in the community 800 years ago.  Then they learned both photography and audio recording skills with rangers and OMK staff.  The afternoon was dedicated to their own efforts of creating digital stories which connect the lessons of the past to the resilience skills they use every day as thier loved ones serve overseas.
The day was a complete success, capped off with the swearing-in of each military kid as a Junior Archeologist.  Their stories are uploaded as podcasts to the Tuzigoot National Monument website.  Please click on the link below to see their stories and support our military youth!
https://www.nps.gov/tuzi/photosmultimedia/operation-military-kids-podcast.htm