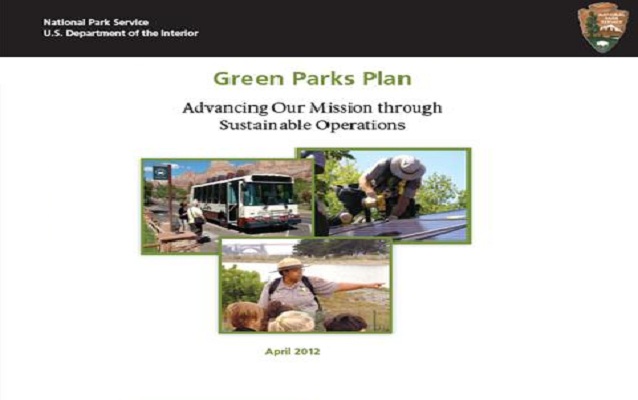 NPS
Quick Facts
GETTING READY FOR 2016:

Action Item:

Go Green

Year Accomplished:

2012
The Green Parks Plan which outlines NPS's sustainability vision and sets ambitious goals was released in April, 2012.  Everyone is encouraged to take action to support this sustainability movement in all aspects of their operations and to be agents of change -drive less, buy less, conserve more, and share best practices. 
The GPP consists of nine strategic goals below. Within each of these strategic goals are several performance objectives that establish specific targets for NPS operations.  Examples include: reducing Scope 1 and 2 greenhouse gas emissions by 35 percent; reducing building energy intensity by 35 percent; and diverting 50 percent of solid waste generated from going to landfills.
Continuously Improve Environmental Performance
The NPS will meet and exceed the requirements of all applicable environmental laws
Be Climate Friendly and Climate Ready
The NPS will reduce GHG emission and adapt facilities at risk from climate change
The NPS will improve facility energy performance and increase reliance on renewable energy
The NPS will improve facility water use efficiency
The NPS will transform our fleet and adopt greener transportation methods
Buy Green and Reduce, Reuse, Recycle
The NPS will purchase environmentally friendly products and increase waste diversion and recycling
The NPS will minimize the impact of facility operations on the external environment
The NPS will adopt sustainable best practices in all facility operations
Foster Sustainability Beyond Our Boundaries
The NPS will engage visitors about sustainability and invite their participation.
In addition to specific environmental performance areas such as energy, water, and waste, the GPP purposefully included a goal category focused on inviting park visitors, partners and communities to participate, called "Foster Sustainability Beyond our Boundaries".  Through interpretation and educational and partnering opportunities 280 million annual park visitors can see what NPS is doing for more sustainable operations and take these experiences home.  If visitors adopt even a few strategies to operate more sustainably in their daily lives the impact would be significant and far greater than what the NPS can achieve within its own boundaries.