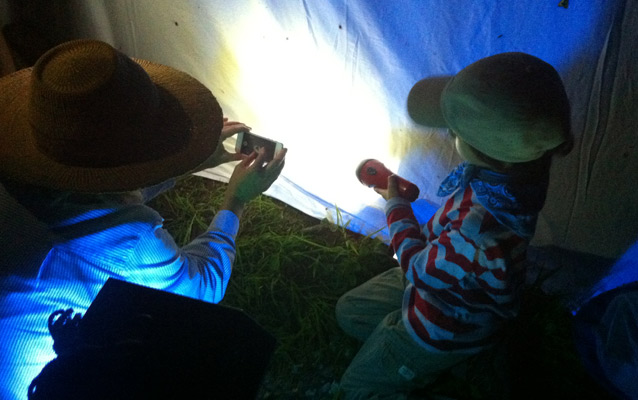 NPS Photo
Quick Facts
GETTING READY FOR 2016:

Action Item:

Next Generation Stewards

Also Promotes:

Go Digital

State:

Vermont

Year Accomplished:

2013
"To my mind the whole earth spread out before me. My father pointed out the most striking trees as we passed them and told me how to distinguish their varieties. I do not think I ever afterward failed to know one forest tree from another..."
So wrote George Perkins Marsh in his pioneering conservation book Man and Nature. He was referring to a childhood ride with his father in a horse-drawn carriage in what is now Marsh-Billings-Rockefeller National Historical Park. In that spirit dozens of naturalists converged on the Park for a Field Day to learn how they can participate by identifying and contributing their own nature sightings to the Vermont Atlas of Life. Vermont Atlas of Life is an ambitious project, launched this January by the Vermont Center for Ecostudies, that seeks to use crowd-sourcing to build an interactive map of all plant and animal species in the state. By making use of iNaturalist, a popular online service that allows observers of nature to share and collectively organize their sightings, the Vermont Atlas of Life relies on data generated by "citizen scientists"--any one, with or without training, who joins the project online and contributes data on animals and plants that they see around them.
So far, the Atlas has contributed to special initiatives, including invasive species occurrences and spring wildflower phenology.  There are over 14,000 observations already in the database.
The Vermont Center for Ecostudies mobilized a growing network of citizen scientists by partnering with the National Park to host an Atlas of Life Field Day. VCE naturalists led several walks through the Park's woodland to demonstrate how anyone, from school children to seasoned birders, can make research-quality observations and record their findings in the iNaturalist database--a process that can be done from any computer or smartphone after downloading a free app and creating an iNaturalist account. Walks focused on birds, bees, plants, and moths allowing naturalists of all ages to learn more about these organisms.
Participants submitted photographs online as part of the park's citizen scientist database. Perhaps more importantly, they learned about natural history and how they can continue contributing observations from anywhere in the world.
http://www.inaturalist.org/places/marsh-billings-rockefeller-national-historical-park-woodstock-vt-us