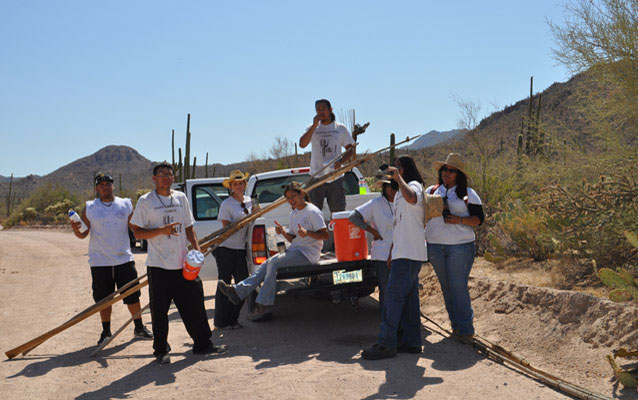 NPS
Quick Facts
GETTING READY FOR 2016:

Action Item:

Step by Step

Year Accomplished:

2012
Teens were hired through the Youth Conservation Corps (YCC) or Native American Conservation Corps (NACC) for summer projects. The park received a grant for special projects thanks to the National Park Foundation. Some of the work was with the park Maintenance Division, other times it was working with the Cultural Resources group. Projects included work with regular park staff plus special learning days to learn traditional skills based on what ancestral Sonoran Desert people might have done at the Casa Grande.
Here is Trevor's (YCC 2012) account of the work:
The YCC summer program and NACC summer program were joined together this summer as a whole. We were handed a number of projects to complete by the end of the summer and it wasn't too easy. We had to backfill all around our Great House, which is layering dirt in all the bald spotted areas and leveling the ground, the crew had to do four layers! We also dealt with re-contouring disturbed areas around the new theater, by that, I mean we planted native plants of the area in our park. We also preserved all the walls around our Great House, which means we threw a mud-like texture on previously treated walls to keep them protected from harm's way. The smaller projects were just to keep the park clean and tidy, for the most part. Even with all these projects to be done and having to do them in 100°+ weather, we enjoyed ourselves with educational days and having special guests visit . We made pottery bowls, baskets, arrowheads, we were taught how to make a fire the old school way, and went to Tucson and harvested fruits off of Saguaro Cacti.