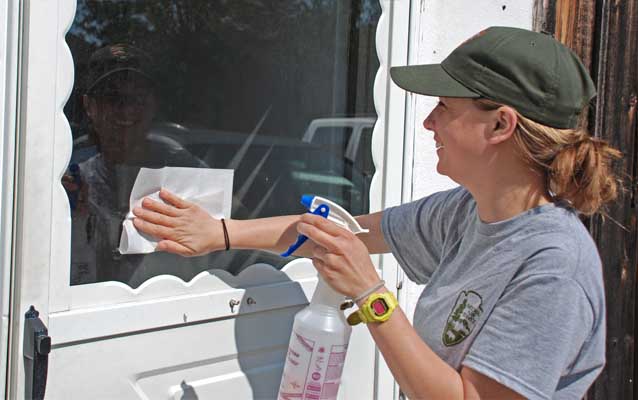 NPS Photo
Quick Facts
GETTING READY FOR 2016:

Action Item:

Go Green

State:

New York

Year Accomplished:

2015
Fire Island National Seashore is working to reduce the climate impacts of its operations based on a principle that less consumption – in the form of source-reduction – can dramatically reduce energy and material use and, therefore, lead to fewer greenhouse gas (GHG) emissions. The Seashore's climate friendly strategies include: 
A robust green janitorial program. A streamlined purchasing strategy facilitated the switch to less toxic janitorial products and an overall reduction in the number of products on site. Having fewer toxic cleaning chemicals on site reduced the impacts from Hurricane Sandy. A central distribution system allows for easier tracking of what's purchased, used and disposed of.


Energy efficient lighting. Many of the Seashore's facilities have pre-existing fixtures so the Seashore could not switch to a uniform product type. Instead, the Seashore relies on a mix of approaches to achieve energy reductions, including dawn to dusk lighting, motion sensors, and minimal lighting in parking lots during the course of the winter.
Consolidation of services. The Seashore used to have 10 garages, now it has two. The Seashore had an opportunity to reexamine and decrease the environmental footprint of its operations in the course of rebuilding and consolidation in the aftermath of Hurricane Sandy. 
A proactive waste reduction program. Given its isolated location on the barrier island, waste disposal is particularly challenging and there is a high cost of doing business. Recycling and producing less waste directly affect the bottom line - less dumpsters used means cost savings. 
No idling policy. This equates to less fuel that is purchased and used and thus, less GHGs are emitted.