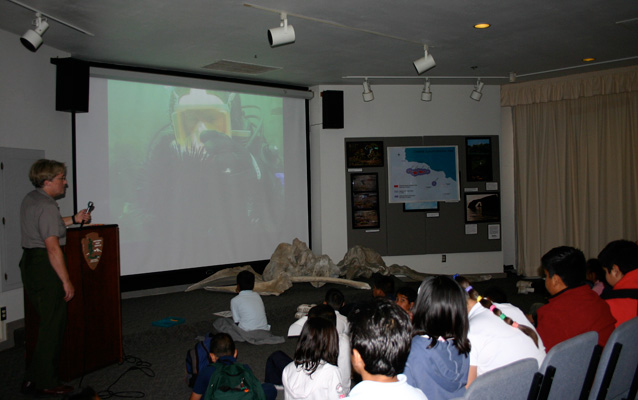 NPS
Quick Facts
GETTING READY FOR 2016:

Action Item:

Go Digital

Also Promotes:

Live and Learn

State:

California

Year Accomplished:

2012
West Coast audiences at institutions from Alaska to southern California interacted with rangers diving in the kelp forests at Channel Islands National Park as part of a celebration of World Oceans Day.
Channel Islands Live provided these audiences a rare glimpse of the kelp forest, one of the most diverse and prolific marine ecosystems in the world. In real time they spoke to rangers diving underwater at a remote island to learn about current threats to our oceans and how they could help conserve our coastal and ocean resources.
Participating audiences included diverse youth at the California Science Center in Los Angeles, senior citizens in Tucson, Arizona, and visitors to the Alaska Sea Life Center in Seward, Alaska.
This live distance learning program, sponsored by the National Park Service and Ventura County Office of Education, regularly connects students and the public to experiencing the park resources through technology. Programs include Live Dives, Live Hikes, and island and bald eagle webcams.
The programs are broadcast by microwave signal in real time from the remote islands to the mainland and then transmitted via the Internet, Internet2, and video conferencing.
Recent Live Hike education programs reached hundreds of students in the distant states of New York, Wisconsin, Ohio, and Indiana. After experiencing the program a fourth grade student in Indiana commented, "I've never seen the ocean before-it is incredible!"
Summer audiences can participate in Channel Islands Live programs every Wednesday at 11:30 am and 2:00 pm, and Saturdays at 12:30 and 2:00 pm through Labor Day.
To watch a live virtual program: https://www.nps.gov/chis/planyourvisit/live-programs.htm
To watch an archived lived program: https://www.nps.gov/chis/planyourvisit/archived-programs.htm
To see bald eagles in their nest: https://www.nps.gov/chis/photosmultimedia/bald-eagle-webcam.htm
To see the Anacapa Island Webcam: https://www.nps.gov/chis/photosmultimedia/anacapa-landing-cove-webcam.htm