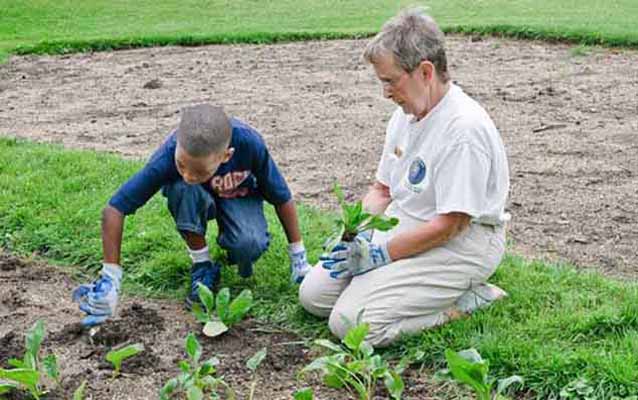 NPS PHOTO
Quick Facts
GETTING READY FOR 2016:

Action Item:

Step by Step

Year Accomplished:

2013
Through funding by the National Park Foundation, the Park Stewards grant, Cuyahoga Valley National Park (CVNP) entered into partnership with the teaching staff and students of Akron East Community Learning Center (East CLC) to work alongside a dedicated group of 17 middle- and high school students in the hopes that their time, energy and passion will translate into more appropriate experiences within the park for young people in the future. The program has been designed to integrate service, recreation, education and healthy decision making into the lives of these students so that they may be able to experience CVNP in a variety of ways before deciding what type of resource interaction makes the most sense to them as an individual. The program began in the Spring of 2012 with East CLC Social Studies department head and teacher Michelle Jones expressing an interest in helping her students to broaden their horizons through experience within CVNP - a park that while less than 15 miles from their homes, was mostly unknown to them.  The inclusion of Interpretive Park Rangers Brady Bourquin and Josh Bates with support from CVNP employee Daniel Calloway has led to a program that will not just provide the current students with experiences that will stay with them for a lifetime, but that will also expose park staff and educators to the wants and desires of an often misunderstood segment of the population - the teenager.  
Ranger Bates brings to the program an intimate knowledge and understanding of working within a Problem Based Learning (PBL). This model has been adapted to include Cuyahoga Countryside Conservancy farmer Daniel Greenfield and the Greenfield Berry Farm. The students will make several visits over the course of the 2012-13 school year to the Greenfield Berry Farm while working on a variety of "problems". Through investigation and exposure, the students will help Greenfield to develop and implement a plan of action to remedy these "problems" in a way that will help his farming operation to function in new and more productive ways. Whether they will be working to enhance infrastructure or assist Greenfield in finding more efficient operational techniques, the students will be provided with the exposure and knowledge of the resource with which they are working to make informed and practical decisions and recommendations. The skills acquired during this process will be later utilized as the students mold their own experiences on the farm and in other areas of the park into a plan of action to be utilized by CVNP when providing similar programs for similar audiences.  
While the students are working with Greenfield, they will also visit a variety of locations within and around CVNP to gain valuable knowledge about what types of visitor experiences are available to them. They will be asked to spend the last few months of their program assessing these experiences, assessments that will lead to their working to create program models that appeal to their own wants and needs, as well as their peers'.  
When the CVNP Park Stewards program is complete, not only will the students have spent almost 9 months exploring, improving and learning about the national park that is located within their back yard, but the NPS staff and volunteers that they will have worked alongside will have been provided with valuable insight into what elements of CVNP appeal and do not appeal to these students so that we may provide more applicable program offerings for teenage visitors in the future. The opportunity for these students to work with NPS staff and volunteers from multiple divisions (Interpretation, Maintenance, Resource Management), but also staff and volunteers from multiple park service units (Hopewell Culture NHP, James A. Garfield NHS). The students will be part of the VIP program of CVNP so that not only will their work benefit them on an educational level, but also go toward their personal and educational requirements for service in the community.  
Timeline of activities:
November 17, 2012 - Winter Sports Center Service Project The group of East CLC students along with teacher Michelle Jones came out to CVNP on Saturday November 17. The visit to the park included a short hike (revisiting a trail that some of them had been on before - provided a chance for those students to share their experience with the others) as well as a service project alongside a dedicated group of adult VIP's. The students worked alongside adults who have a passion not just for CVNP and the National Park Service, but also a passion for sharing the park and resources with young people. These folks will be a part of future visits to the park - whether they are service or recreation based. The project was a success and the Winter Sports Program Coordinator (this is who we were helping to move winter sports equipment out of storage and into the Winter Sports Center for the season) was HIGHLY impressed with the way that the students not only worked, but worked with each other as well as the adults.  
January 12, 2013 - Recreational Experience The group of students from East CLC and their teacher Michelle Jones made a trip to Cuyahoga Valley National Park to enjoy a winter day in the park. The students met at the Cuyahoga Valley Environmental Education Center where staff and volunteers were ready to help them cook lunch over a fire. What started as a nostalgic experience got interesting when we realized that not only had some of the students never cooked over an open fire before, but some of them were also concerned about what the smoke would make their hotdogs and marshmallows taste like. What made this experience especially amazing was that while the volunteers and park rangers - all experienced fire cookers - were advocating for the students to try the activity and see what the hot dogs really tasted like over an open fire, the most vocal and effective advocates of trying something new was one of the students! He spent his time cooking hotdogs for others, cooking oranges and apples, marshmallows to make s'mores and anything else that he could cook just to see what it would taste like! He also worked hard to get his peers to participate as well, helping them to overcome their fears and give the food a try. After lunch, the group went on a hike to learn a bit more about some of the animals that call CVNP home, and to get a little exercise after a hearty meal. In all, the experiences that day were not what park staff had originally planned, we were supposed to be snowshoeing but an early January warm-up melted the snow before the students were able to make it out, however, being able to adjust on the fly, and a willingness by the students to try something new helped make this day one that will not be forgotten for a long time. This experience set the stage for the upcoming service project with students from Paint Valley High School near Chillicothe Ohio. This field trip will take place February 24 -26, 2013 and will allow for the students to share what they have learned about CVNP with students who have been learning about Hopewell Culture National Historic Park. Look back for an updated report on the field trip.  
For more information about this program please contact Park Ranger Brady Bourquin at 440-343-7035 or brady_bourquin@nps.gov.