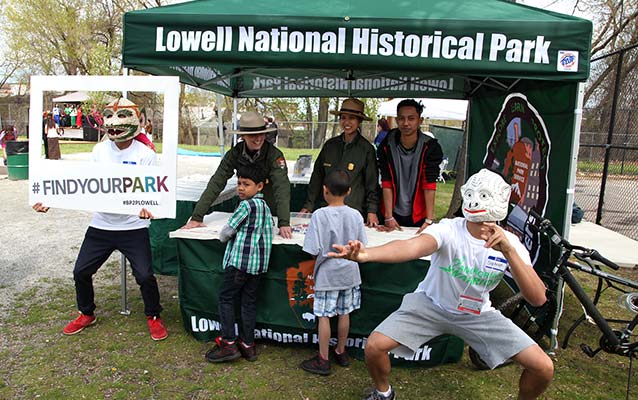 NPS/P.Lupsiewicz
Quick Facts
GETTING READY FOR 2016:

Action Item:

In My Back Yard

Also Promotes:

Parks for People

Year Accomplished:

2016
The morning broke cool and overcast, but by days end, the sun was out and the temperature for late April was ideal. Clemente Park was the focal point for Cambodian New Years (The New Year holiday lasts for three days usually falling in mid-April, which is the end of the harvesting season, when farmers enjoy the fruits of their labor before the rainy season begins) and Lowell National Historical Park identified this event as a great beginning for the new series, "Bringing the Park to the People." In celebration of the National Park Service's 100 Birthday, the park is co-hosting a series of community outreach events at neighborhood parks across the city. These events will include pop-up museums and neighborhood walking tours, interviews with residents with a mobile recording studio and more. 
One of the signature highlights of the series is the community weaving project, with community members invited to bring a strip of fabric from their home which represents who they are, their family, their culture or heritage. Participants will weave the fabric into a grid, alongside strips of fabric from their neighbors. Once each piece is finished, it will be combined with other pieces from events throughout the City of Lowell. 
The community weaving project, with pieces from each of the neighborhoods in Lowell, will be on display at the Lowell National Historical Park Founders' Day event on Saturday August 27, 2016 at Boarding House Park. The goal of the project is to display the rich history and diversity of the communities in Lowell. 
Park rangers Saoran Roeuth, Amy Glowacki and centennial intern, Alyck Horton met over 150 residents of the community, encouraging participation in the weaving project, sharing park offerings, and answering questions about the centennial. At scheduled intervals during the day's events, staff had the opportunity to address the crowd and invite them over to the park tent to participate in the offerings. 
At this event, online participation was offered with a special hashtag #BP2PLowell and several Periscope sessions caught the energy of the day's events and activities. Facebook and Twitter posting rounded out the social media presence. Stay tuned for more BP2P this summer https://www.nps.gov/lowe/planyourvisit/parktothepeople.htm.