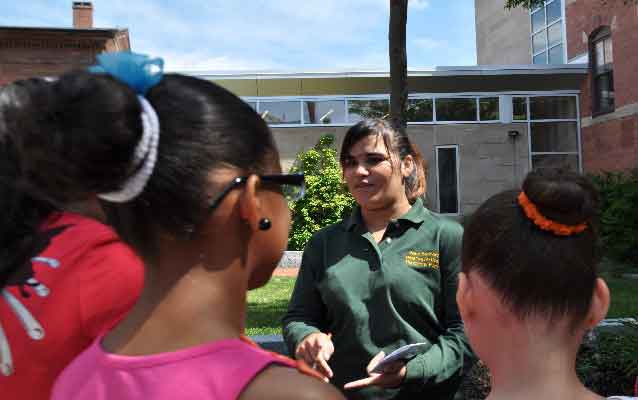 NPS
Quick Facts
GETTING READY FOR 2016:

Action Item:

Step by Step

Also Promotes:

Ticket to Ride

State:

Massachusetts

Year Accomplished:

2013
Learners to Teachers and New Bedford High School students Keven A, Keven F, Matilde, Arelys, and Jacinta were powerful examples for 54 3rd-5th grade students from Hayden McFadden, Winslow and Gomes Elementary Schools. All of the students have one thing in common: they are all English Language Learners in New Bedford public schools. The Learners to Teachers researched, wrote, created animated characters, edited and produced a film while also practicing public speaking at the park in preparation for giving back to younger students thanks to the National Park Foundation's Ticket to Ride program. 
As the Learners to Teachers premiered their capstone project after two months of intensive production, the film, "Welcome to New Bedford Whaling National Historical Park," Keven F announced to the students, "We made this video for you!" The elementary students watched, laughed and clapped-enjoying the custom animated characters and cultural touches that reflected their world. 
Students continued on to complete a scavenger hunt, and were eagerly helped by the Learners to Teachers who assisted park rangers in leading the mini-tours. Rangers overheard students talking about the advantages of becoming bilingual, observed elementary youth gathering around Learners to Teachers talking in their native languages to complete their scavenger hunts, and on a tip from a Learner to Teacher, learned to say, spell, see and share new words to give everyone an avenue to learn.
A special appearance by Youth Ambassador Program – YAP! member Sky, who performed a verse acapela from "54" and introduced YAP! videos "54" and "Walk with Me" added a special touch to the for youth, by youth program.  YAP!'s participation was the third link during a day that connected educational programming,  Learners to Teachers, and YAP! showing students progressive ways to stay involved with the park as they grow up.
Finally, when elementary students shared their final thoughts and questions one young participant reported "My first favorite thing about today was everything."