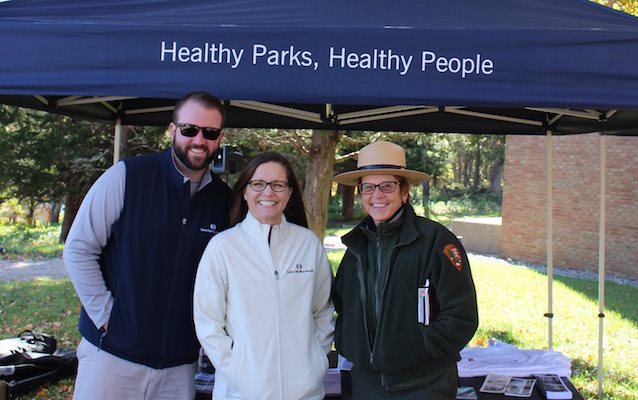 National Park Service
Quick Facts
GETTING READY FOR 2016:

Action Item:

Take a Hike, Call Me in the Morning

Year Accomplished:

2015
Cape Cod National Seashore partnered with Cape Cod Healthcare (CCH) this summer to begin a Healthy Parks, Healthy People program to encourage more people to use the park as a place to improve health and wellness. The initial focus of the partnership is to raise awareness of the greatest health risks and introduce an easy, powerful antidote to heart disease –a nice walk in the woods. The medical staff of Cape Cod Healthcare, along with park staff, developed a variety of experiences to get people walking on park trails, tracking their progress along the way. Both organizations leveraged resources, working towards the common goal of a healthier community. The summer's walking program concluded for the season with an outdoor event to celebrate the success of the new partnership and rewarded several walkers who made the most progress by lowering blood pressure and weight.
Throughout the summer, medical professionals were in the park five days a week at one of the trailheads to help visitors track blood pressure, body mass index, and weight before and after each walk. Dr. Elissa Thompson, Cardiologist with CCH, served as the Medical Director for the program and provided visitors with accurate health and wellness information. Walkers received a passport when they signed up for the walking program in order to track progress, and then they received a stamp in the passport for each completed trail. More than 170 people signed up for the free walking program in its inaugural year. Over the course of the program, one participant lost 20 pounds, while another walker decreased their blood pressure by 83 points.
The seashore also developed and highlighted "health focused" ranger-guided programs, such as yoga on the beach, bike tours, and cardio hikes. The most successful new interpretive program related to the Healthy Parks, Healthy People initiative was a family-oriented program patterned after the popular television show, "American Ninja Warrior." Participants navigated an obstacle course inspired by the historic Lifesaving Service of Cape Cod. The course required strength, agility and problem-solving for completion. Along the way, participants learned about the value of the national seashore as a place where history and nature are preserved, and recreational opportunities abound.
The partnership will expand in upcoming years, diversifying the program offerings to reach a wider audience and connect more people to health and wellness opportunities in their park.