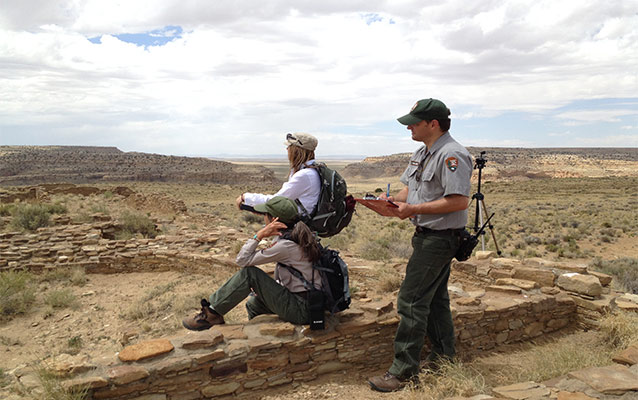 NPS photo by Mark Meyer
Quick Facts
GETTING READY FOR 2016:

Action Item:

Enjoy the View

Year Accomplished:

2015
Enjoy the view. Sounds simple, right? Taking a minute to appreciate a beautiful vista can be relaxing, connecting us to special places. However, actively preserving this experience can require a lot of work.
Clean Air
Good air quality is critical to the appreciation of scenic views, to human health, and the health of ecosystems. In the past 30 years great progress has been made toward improving air quality nationwide, but many parks still experience air pollution levels that can affect visitors, staff, and park resources. Learn more about the air in a park near you.
Protecting Views
The first step in protecting scenic views is identifying and assessing them. Views include the natural setting and all other visible objects—everything the eye can see. Naturally, views frequently extend past park boundaries, so partnerships with other agencies, organizations, private landowners, businesses, among others, are crucial for successful conservation.
Call to Action
More than 30 parks have committed to Call to Action #38, Enjoy the View! And 17 parks have hosted kick-off workshops to learn about local air quality and started visual inventories. These parks implement a 2-pronged visual inventory system developed by the NPS Air Resources Division to evaluate selected views of, and from, their parks:
1. What is this view's scenic quality?
2. Is this view important?
This approach values historic and cultural attributes of the landscape equally with the commonly recognized natural features. When determining a view's importance, park personnel consider its significance for interpretation, viewer sensitivity, and the investment in access and infrastructure.
With the inventory and evaluation tools in hand from the workshop, parks can select additional views and continue to add to their data. In the summer of 2015, personnel and interns at Delaware Water Gap National Recreation Area used the Enjoy the View methodology to add 44 views along the river to the park's visual resource inventory. Their work gives park management a promising new tool to protect visual resources in both internal and external projects.
Nothing can replace a gorgeous park view. The active evaluation of views by parks will help park planning. It also gives parks new information to assess external project proposals that could potentially affect scenic, natural, and cultural resources in parks. This gives everyone something to celebrate for the National Park Service Centennial!