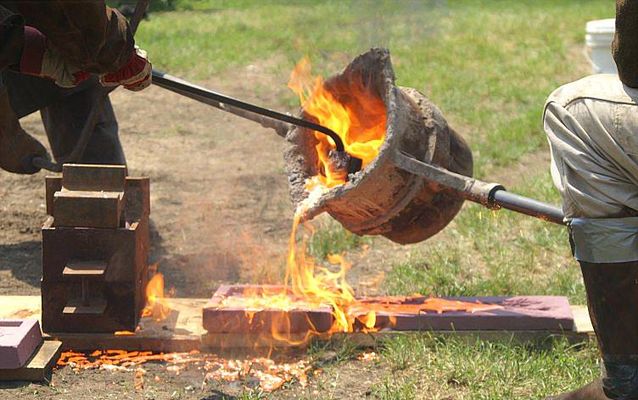 NEMES
Quick Facts
GETTING READY FOR 2016:

Action Item:

Arts Afire

Also Promotes:

In My Back Yard

Year Accomplished:

2013
A roaring flame dances feverishly atop a hot furnace spewing orange molten iron into the angled ladle of an ironworker. A child's eyes widen as they watch the ironworker pour the liquid fire into a mold of compressed sand – a mold the child carved by hand just moments earlier.  The molten iron hisses and bubbles as it sloshes to and fro in the sand, slowly transforming from an orange soup into a metallic square.
This weekend visitors to Saugus Iron Works National Historic Site will experience the scorching heat, flames and acrid smoke of a 2,800-degree blast furnace as park rangers, ironworkers and neighborhood residents come together to turn scrap iron into homemade pieces of art.  Visitors create their own customized designs for a 5"x5" iron square by carving lines, curves and textures into a compressed sand mold with a metal nail.  The sand mold is then sprayed with graphite (an anti-stick material) and placed on a sled of molds – each to be individually filled with molten iron while guided by the careful hands of an ironworker.  The pour is as dramatic as it is delicate.
The iron pouring program provides visitors and local residents with an authentic glimpse into the site's influential past as the first fully-integrated iron works in North America, established 1646.  While the forges and furnaces of the 17th century iron works have long been extinguished, the iron pour demonstration transports adults and children into a world where science, art and technology once combined to shape the future of the American iron and steel industry.
The heat, the smoke and the history of Saugus Iron Works all takes place within earshot of hundreds of Saugus, Massachusetts homes.  It is a National Park site whose history and programming live alongside the leafy green backyards of local residents – and a park many neighbors are proud to call…home.