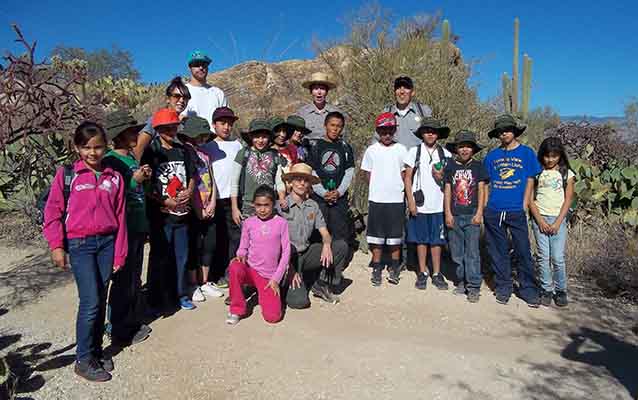 NPS photo
Quick Facts
GETTING READY FOR 2016:

Action Item:

Take a Hike, Call Me in the Morning

Also Promotes:

Live and Learn

State:

Arizona

Year Accomplished:

2013
The goal of the Children's Hiking Club is to reach out to children in underserved regions around Tucson and provide them with opportunities to connect with the resources and the staff at Saguaro National Park, as well as showing ways to incorporate healthy eating and physical activity into their lives.
This year, we worked with students from Summit View Elementary School. Teacher and basketball coach Amanda Molinar was a big help in inviting students to join the club. Eighteen 4th and 5th grade students are currently members of the hiking club, which they named the Puma Nature Squad.
Once a month, park staff and the students meet after school for the club meeting. Topics at these meetings have included "What is a National Park", "Wilderness Ethics", "Nature Photography", "Become a Junior Ranger" and "Preparing for You Hike" (stretching exercises, safety tips). We provide a variety of healthy snacks for the afternoon meetings, including "Create Your Own Trail Mix".
Once a month, the students, Ms. Molinar and park staff met to take a hike in Saguaro National Park. Parents and older siblings of the club members were invited to attend. We usually had 4 to 6 parents tagging along on each hike. We built up our endurance by increasing the mileage and/or difficulty with each hike, starting with a 1-mile hike and working our way up to a 5-mile hike to Bridal Wreath Falls. We always have healthy trail snacks available for the students and provided sack lunches for the 5-mile hike.
The park staff has been incredibly impressed with the enthusiasm of these young hikers. They actively participate in our meeting activities and are always eager for the next scheduled hike. We have had a very high turnout for each monthly activity. The 4th grade students are already looking forward to being in the club next school year while the 5th graders are saddened that they won't be in the club, since they will be moving on to middle school.
Park staff are hoping for funding to continue this program next year, with the possibility of expanding to a second school.
Funding for this program has been provided by the National Park Service and a Children's Fitness Fund grant from the Southern Arizona Roadrunners. Funding for bus transportation has been provided by the Friends of Saguaro National Park.