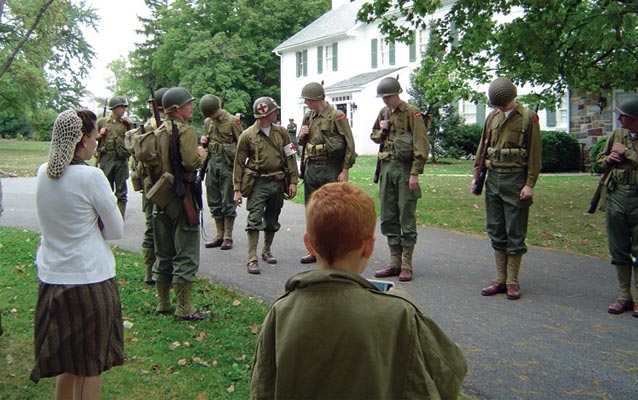 NPS/EISE
Quick Facts
GETTING READY FOR 2016:

Action Item:

History Lesson

Year Accomplished:

2013
 This weekend, the National Park Service sponsored its annual World War II living history weekend at Eisenhower National Historic Site. Several hundred living history enthusiasts from over 40 organizations portrayed military personnel from the European Theater in 1944. The army encampments featured American, Canadian, Polish, Soviet, and regular German Army troops along with original World War II vehicles.
Each day, living history volunteers presented programs on World War II medical services, weapons and equipment, communications, and the life of the common soldier. Among the guest speakers who shared their personal WWII experiences was a survivor of the infamous Malmedy Massacre, a P-47 fighter pilot who flew 105 combat missions over Europe, a navy gunner whose ship was torpedoed by a German submarine, and wounded veterans of the D-Day invasion, Battle of the Bulge, and Operation Market-Garden.
The event includes tours of the WWII burials in the Soldiers National Cemetery, book signings, and a Saturday night USO dance.