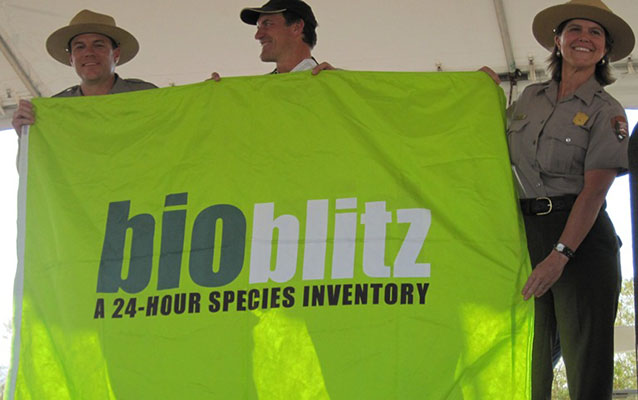 NPS photo
Quick Facts
GETTING READY FOR 2016:

Action Item:

Next Generation Stewards

Also Promotes:

In My Back Yard

State:

Arizona

Year Accomplished:

2011
The 2011 National Park Service / National Geographic BioBlitz was held in Saguaro National Park, on October 21 and 22. The event provided local scientists, students and citizens the opportunity to conduct a 24-hour inventory of the plants, insects, birds and other living things that inhabit the desert park. Two days of round-the-clock exploration and documentation, provided a snapshot of the many plants and animals in the 91,445-acre park.
When the projected count of 859 species identified was revealed at the Base Camp on the afternoon of October 22, we knew the number would continue to increase. Many specimens of invertebrate animals, non-vascular plants and fungi had been collected and photographed but will take weeks to months to identify. Ultimately, we expect that hundreds of organisms never before documented in the park will be cataloged. As of July 1, 2012 the species count was up to 1,044.  View More Results of the 2011 BioBlitz at Saguaro National Park.
Other Highlights from BioBlitz include:
·        5,500 people, including more than 2,000 registered schoolchildren, participated in BioBlitz and the Biodiversity Festival.
·        The Biodiversity Festival encouraged the public to do their part to protect the environment through music, performances, talks, nature walks, live animal demonstrations and other activities at more the than 45 booths around "base camp" at the Tucson Mountain District Red Hills Visitor Center.
·        An Electronic Field Trip filmed during the event showcased students participating in hands-on science activities.
·        Thousands of adults and kids earned "degrees" from "Biodiversity University" by participating in educational programs throughout the festival.
·        The festival had an integrated art program, which included pieces featuring local species, created by local students, seniors and artists. More than 100 poems and prose were written as part of a poetry inventory done with local scientists and writers. A poetry garden/walk displayed some of the submissions in their natural setting.
Primary sponsors included the Friends of Saguaro National Park and the Arizona Sonora Desert Museum, but many other groups contributed funding, volunteers, expertise, and many other creative forms of support. Tucson really rose to the occasion as the entire community supported and participated in the 2011 BioBlitz.