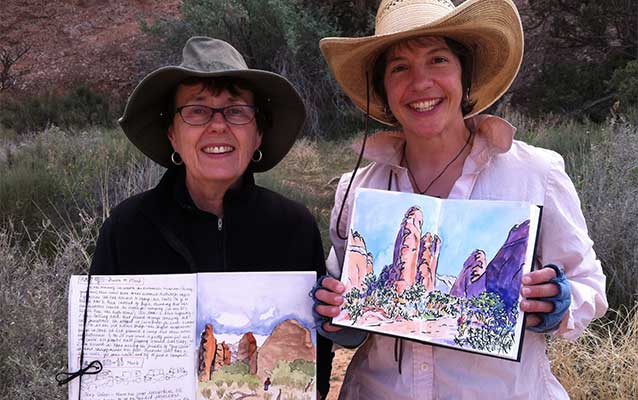 NPS/Katrina Lund
Quick Facts
GETTING READY FOR 2016:

Action Item:

Arts Afire

State:

Utah

Year Accomplished:

2015
The national parks in the Southeast Utah Group (Arches National Park, Canyonlands National Park, Hovenweep National Park, and Natural Bridges National Monument) have hosted a 
Community Artist in the Parks
 as a way to partner local artists with the parks and their visitors. 
This year's community artist, 
Katrina Lund
 began hosting special "sketch crawl" events to help visitors connect more deeply to the landscape around them. The idea of the sketch crawl came from the pub crawl, but instead of going from pub to pub, visitors go from location to location to sketch. 
"When I woke up this morning, I had no idea I'd be sketching in Arches National Park. People back home are never going to believe this," said Tom from Wisconsin, a self-proclaimed non-artist who happened upon the most recent Arches monthly sketch crawl. "Sketching is a tool I use to deepen my experience of a place and to remember how these striking desert landscapes make me feel," Katrina said. "When I stop to draw something, I see all the details I would miss if I just took a photograph."  
Sketching events will take place throughout the summer at all four parks in the Southeast Utah Group. The Southeast Utah Group parks host a new community artist each year between April and October.