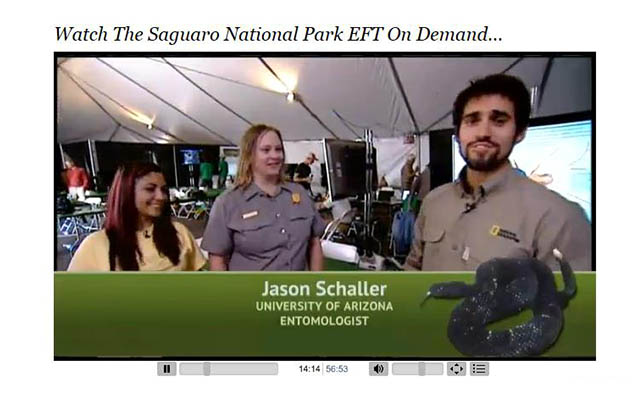 National Park Foundation
Quick Facts
GETTING READY FOR 2016:

Action Item:

Scholarly Pursuits

State:

Arizona

Year Accomplished:

2011
The 2011 BioBlitz at Saguaro National Park, was a great success.  More than 2,000 students and 1,500 public volunteers teamed up with approximately 150 volunteer scientists to catalog the park's amazing biodiversity.  One innovate aspect of the BioBlitz was a scholarship program sponsored by the Western National Parks Association (WNPA)hat supported graduate students who created programs went above and beyond field inventories. 
Four projects were chosen through a competitive process by a team of scientists from NPS, WNPA, the National Geographic Society, and University of Arizona.  One student added value to a beetle inventory by interpreting insects at the Biodiversity Festival,  then appearing in a nationally telecast Electronic Field Trip that was viewed by thousands.  A team of mycology students from the University of Arizona led a high school student class in collecting, isolating and identifying (through DNA) nearly 200 species of endophytes (fungi that live inside vascular plants).  A third student project was an enormous partnership effort with the Tucson Audubon Society to inventory the park's birds.  A  fourth project created a re-survey of a historic saguaro study plot that was first studied in 1941, then re-surveyed by high school students during and after the BioBlitz. 
The partnership benefitted not only the public and the student scholars, but also the park, which received detailed reports on the study results.  This was especially important for beetles and endophytes, groups for which we previously had little or no information.  In addition, the student projects received a large amount of positive media coverage - see a video by the National Science Foundation and links to other stories.