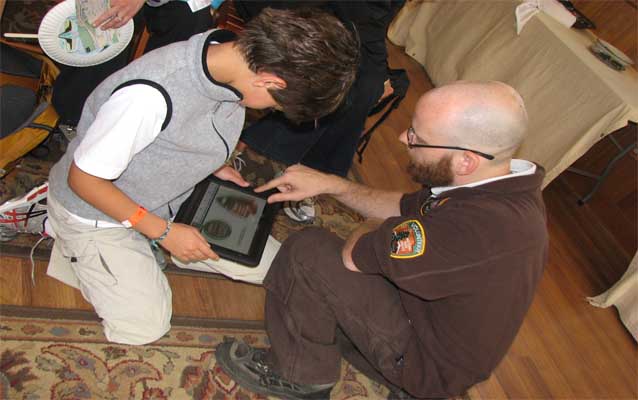 NPS
Quick Facts
GETTING READY FOR 2016:

Action Item:

Go Digital

Also Promotes:

Go Green

Year Accomplished:

2012
Klondike Gold Rush National Historical Park is developing iBooks this summer to replace Junior Ranger booklets. The new iBook will help the park's youngest visitors better understand the history of the Klondike Gold Rush and make the Junior Ranger Activity Center (JRAC) a happening place to be for families in Skagway, Alaska. 
The iBook replaces signage and becomes a road map to follow throughout the JRAC. The IBook pages are designed to help families actively learn about the world's largest gold rush through playful activities. Children are encouraged to put on Victorian era clothing and load up a back pack as they prepare for the Chilkoot Trail of 1898. They can also compare photos of mountain goats and bears to the real animal pelts on display. Other activities encourage hands-on play with traditional toys, coloring their own native Alaskan mask and taking a closer look at artifacts. 
 The new iBooks were developed by park education specialist Amanda McCutcheon and Student Conservation Association, Chris Serio, the park's Junior Ranger Ambassador. Using the new digital books allow Klondike Gold Rush NHP to Go Green as well as Go Digital.  Junior rangers can earn a wooden engraved badge and receive a certificate that can be e-mailed to them at home.  The park plans to pilot the program in 2013 and extend opportunities with an interactive mobile application for iPads to further reach younger audiences.