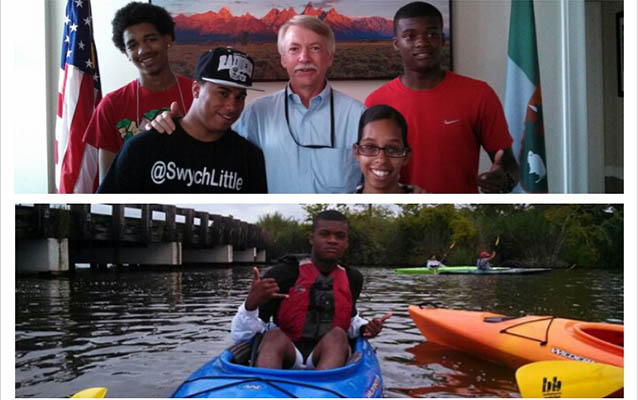 Karissa DeCarlo, NPS
Quick Facts
GETTING READY FOR 2016:

Action Item:

Arts Afire

Year Accomplished:

2013
Your assignment: research, write lyrics and perform a new song featuring the Underground Railroad in one week. Did we mention the research involves a road trip, camping, a packed touring schedule of parks, kayaking, biking, bug bites, recording studio time and finally performing live at the Fort Dupont Summer Concert Series? Oh-we are also filming the whole trip for "The North Star Journey" Reality Doc. YAP! members Dakota, Swych, Soulo, and Devonte signed on to complete the assignment.  
Follow along with "The North Star Journey" Reality as a new episode is released each Wednesday at 3:30 PM starting March 19, 2014. Premiered in New Bedford on February 28, 2014 to an audience of 140, the reactions ranging from laughter to serious contemplation underlined the power of this project.
The Youth Ambassadors took on every opportunity and challenge throughout the week and the impact of what they felt, saw, learned and did is evident in every verse of their newest song, "North Star." YAP! had to push a van stuck in the mud (and subsequently, became covered in mud), craft lyrics around a campfire, discover ways to charge their electronics, and work together to cook meals, set up tents and rise every day to a schedule of recreational activities, site visits and rehearsal.
As they became more immersed in the world of the Underground Railroad and in particular the stories of Harriet Tubman and Frederick Douglass, it seemed they could find the courage and energy to do anything. From learning to kayak, completing a challenging bike ride and simply finding a renewed appreciation for opportunities they might pursue thanks to the work of others; inspiration was in the air.
One of the highlights of their adventure was an afternoon meeting with National Park Service Director Jon Jarvis where they talked about the power of communicating through hip-hop and connecting with new audiences. Jarvis asked YAP! if they felt that this type of communication was beneficial to the National Park Service.  "Yes!" was the universal reply.  Director Jarvis applauded their work and encouraged YAP! to keep on creating and taking park messages into the 21st century.
Production assistant Bianca Johnson summed up the experience: "In just one week I watched four talented individuals take the torch and use their skills to tell a story of our past while seeing a new future for themselves."
The trip was made possible by a grant from the National Park Foundation through the generous support of ARAMARK through the Yawkey Foundation and the Fernandez Pave the Way Foundation, as well as the Rivers, Trails, and Conservation Assistance Program. Thanks to our partners that provided in-kind contributions of lodging, camping equipment and site space, tours, a production assistant and a vehicle: Blackwater National Wildlife Refuge,  Frederick Douglass National Historic Site, Greenbelt Park, Harriet Tubman National Monument, Rivers, Trails, and Conservation Assistance Program and 3rd EyE Youth Empowerment.
The experiences coordinated by the NPS sites and partners inspired the ambassadors' creativity and allowed them to live many of YAP!'s core values such as moving outside, knowing your history, living sustainable, experiencing your America, and inspiring others. The at-risk youth that are part of the Youth Ambassador Program have developed into a team of researchers, historians, writers, explorers, lyricists, musicians, polished performers and ambassadors for the National Park Service.