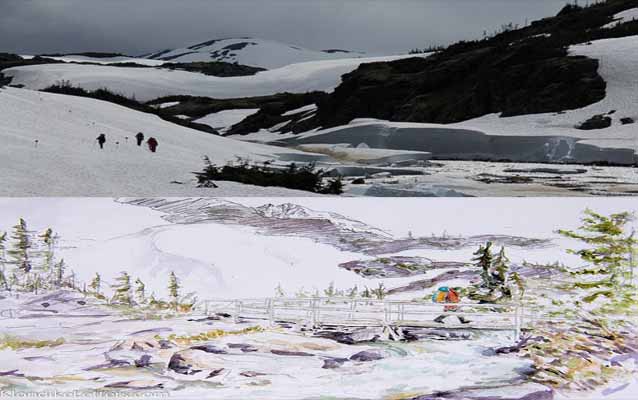 Corrie Francis Parks
Quick Facts
GETTING READY FOR 2016:

Action Item:

Arts Afire

Also Promotes:

Go Digital

Year Accomplished:

2012
Hikers on the International Historic Chilkoot Trail were offered a unique opportunity to record their impressions of the monumental crossing of the Chilkoot Summit.  From June 25 -July 7, Chilkoot Trail Artist in Residence Corrie Francis Parks was stationed on the Chilkoot Trail inviting hikers to record their triumphs and hardship of their journey over the Chilkoot trail on small post cards.  Parks then collected the postcards and plans to mail them back to visitors in year so that park visitors can relive their adventure in the rugged Alaskan mountains. Hikers wrote poems, drew pictures, told stories and reminded themselves of their successes on these personal notes.  Parks will combine this intimate composition of postcards with her own art, photography, and writing while on the trail to create a short animated film about the Chilkoot Trail.  Parks is maintaining a blog and website for this project called, "The Klondike Letters Project" at www.klondikeletter.com.
The Chilkoot Trail Artist in Residence Program is the result of collaborative efforts of Klondike Gold Rush NHP, Park Canada- Chilkoot Trail Historic Site, Yukon Arts Center, Skagway Arts Council, and Alaska Geographic.   The two artists chosen to participate for summer 2012 were Ms. Parks from Big Sky, Montana and Jay White from Bowen Island, British Columbia Canada.
The Artist Residency was developed to help connect people and national parks and national historic sites through art. Artists go beyond just making art; they also act as translators, inviting people to share their experiences at these special places through paintings, sculptures, photography or other mediums.