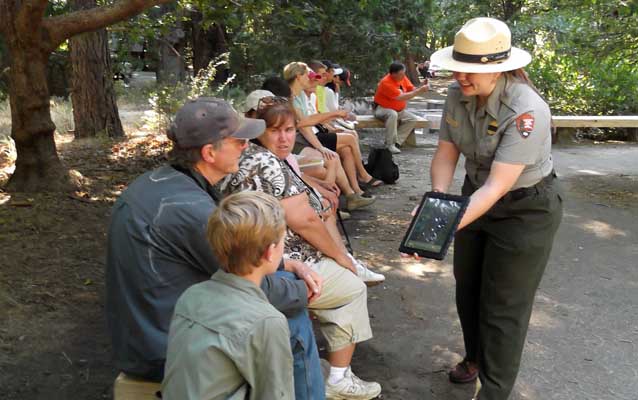 NPS Photo
Quick Facts
GETTING READY FOR 2016:

Action Item:

Go Digital

Year Accomplished:

2012
Over the last year, Yosemite has explored many "new media" based programs and projects.

iPads in the Field
With help from the Yosemite Conservancy, Yosemite purchased iPads to use in the field this summer with Junior Ranger programs. Rangers who are equipped with iPads have a dozen natural history guides that are awaiting the public's interests at the touch of a finger. In addition to them being used at interpretation programs, the park's education branch is also exploring opportunities with visiting school groups.
Yosemite Interpretation Publishes an ePlan
It's not just the increase in visitors that is making the world turn faster for interpreters in Yosemite in 2012. With the rising interest in going digital, Yosemite saw a need for their newly published Long Range Interpretive Plan (LRIP) to be made available through the tap of a finger. Park staff and partners crafted the plan to highlight the park's purpose, significance, and challenges and to provide recommendations designed to support the collective vision for the future of Yosemite. As an ePlan, the team expects their LRIP will speak to a broader audience and that the linked multimedia will complement the content in a way that provides a greater understanding of the plan.

Yosemite's Long Range Interpretive ePlan is built to enhance the reader's experience by allowing them to explore relevant online material, such as some of park's best practices. The reader is greeted by Chief of Interpretation, Tom Medema quoting John Muir from his iPad. Medema reflects, "This plan is mobile, searchable, updateable, and inexpensive. Beyond these convenient and resource saving benefits, the most noticeable advantage is that the content immediately comes alive in your hands. You can click on a picture to enlarge it, tap a link to watch a YouTube video on rock fall, or visit  our partner's websites as you read about their invaluable work- all within this one ePlan."

The ePlan is the first of it's kind, for a long range interpretive plan, and is now available for your iPad, Nook, Kindle, or through adobe digital editions.

Social Media Workshop
In January 2012, a combination of 40 park partners, nearby Sequoia and Kings Canyon staff, and Yosemite staff recently attended a two day social media workshop held in Yosemite National Park. The workshop was led by John Tobiason, New Media Specialist of Harpers Ferry Center and David Restivo, Acting Branch Chief of Interpretive Services for Yosemite National Park. The group focused on how Yosemite can best use social media to communicate critical interpretive and informational content to visitors, stakeholders, and each other.

To kick off the training, the duo tackled the basics of current social media tools, such as Facebook, Twitter, You Tube, and Flickr. Both days closed with inspiring dialogue of "what to expect next" and how Yosemite can play a leading role in the service's use of new media. In light of the two day session and supported by several actions within the Call to Action, Yosemite has organized a social media team. This team is developing a strategy, with park partners, to effectively leverage social media tools and to prepare to support new media.