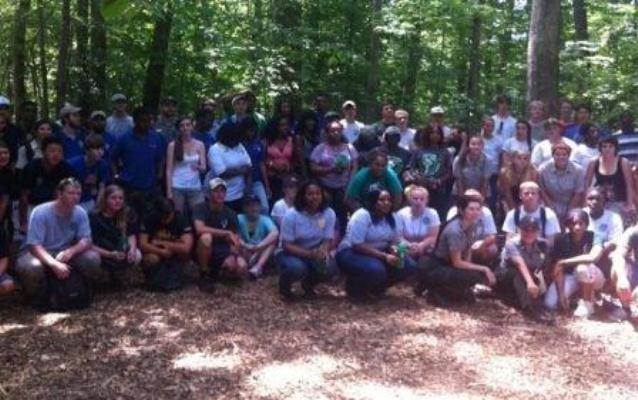 NPS/Wendy O'Sullivan
Quick Facts
GETTING READY FOR 2016:

Action Item:

Step by Step

Also Promotes:

Parks for People

Year Accomplished:

2012
Camping, fire ring, youth showcase, career voices…rock on!! 
This summer a new youth engagement program launched within the greater Washington, DC area that brought together NPS staff  and over 150 youth working this summer in our local 14 national parks.  
"Rock the Forest: My Summer with the NPS", was held at Prince William Forest Park, an authentic rustic national park only 45 minutes from DC. A diverse mix of youth enjoyed the CCC-era cabins, healthy meals, a special fire ring program by and for youth, as well as, a second day filled with fun activities to learn about NPS careers.
The Fire Ring program was designed to be a modern twist on the classic ranger led fireside program.  Instead of a seasoned ranger program, youth from each park presented a snapshot of their summer with the NPS.  The presentations were remarkably creative and included a mini play, a song, a rap, a few poems, a heartfelt revelation, a banner display, and an interactive stomp. A hip local guitar singer provided musical entertainment that featured current pop rock sing-alongs, and of course there were s'mores!
The Career Voices sessions on the second day were designed to highlight the various career fields within the NPS. Groups of youth rotated to different stations across the park to meet and exchanging with NPS staff representing eight different career fields.  The NPS staff talked with the youth about their work and the youth engaged in fun group activities designed to put the careers into action.
The event was just one step of many that the National Parks around the nation's capital are taking to reach out and make parks more accessible and relevant to youth.
Go ahead -- turn up the volume to watch this short fun video that presents exciting highlights of the two days with great youth testimonials at the end!