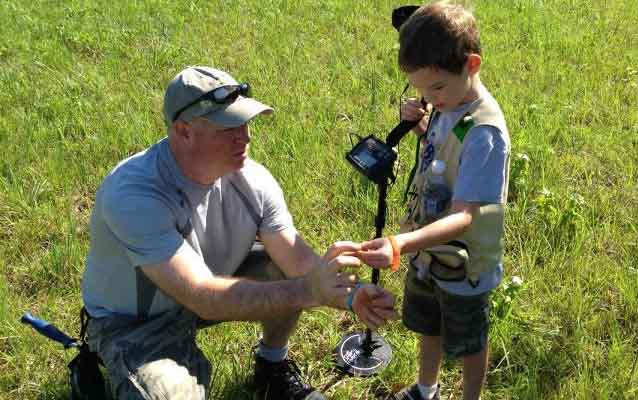 Mike Seibert, NPS
Quick Facts
GETTING READY FOR 2016:

Action Item:

History Lesson

Also Promotes:

Next Generation Stewards

Year Accomplished:

2012
NPS Southeast Archeological Center (SEAC) archeologist Michael Seibert updated local scholars on recent research to locate Revolutionary War campsites associated with the Battle of Cowpens during an "After Hours" event at Cowpens NB on July 29, 2012. The Battle of Cowpens was a decisive victory by Continental army forces under Brigadier General Daniel Morgan. It was a turning point in the southern campaign of the Revolutionary War.
For two weeks in May, a team of SEAC archeologists searched likely locations in the park for evidence of bivouacs of the Continental Army force. Discouraged by inconclusive results, Seibert enlisted the assistance of two local volunteer associations and returned in July to carry out additional reconnaissance. Volunteers from the South Carolina Archaeological Society and the Treasure and Artifact Association of South Carolina (a metal detection group) worked with SEAC archeologists to identify potential campsites. Seibert's volunteer teams recovered more than 40 Revolutionary War period items, mostly buckles and musket balls.
Speaking to an audience of 53 attendees, Siebert spoke about the challenges of identifying campsites that have been impacted by two centuries of farming and landscape change. He said, "To recover evidence of Morgan's army on this section of the battlefield, we are sifting through more than 200 years of landscape transformation and looking for less than 24 hours of Revolutionary War history."
Volunteer involvement and public interest were key elements in the success of the 2012 research at Cowpens NB. Over the course of 2 days, 27 volunteers participated in the fieldwork, and 53 people attended the "After Hours" event to learn about the results of the research.