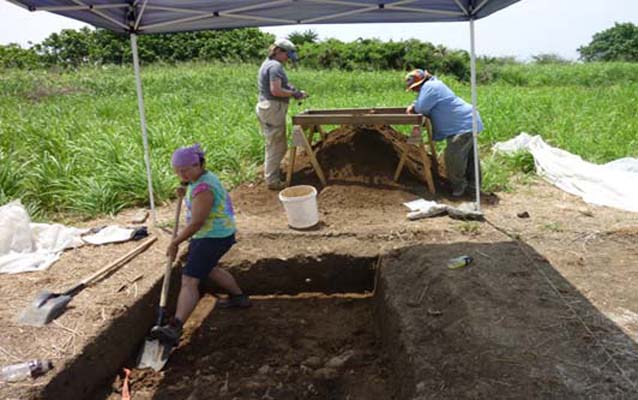 Meredith Hardy, NPS
Quick Facts
GETTING READY FOR 2016:

Action Item:

History Lesson

Also Promotes:

Parks for People

Year Accomplished:

2012
From May 5-June 4, 2011, the National Park Service's Southeast Archeological Center and South Carolina Institute of Archaeology and Anthropology (SCIAA), University of South Carolina (USC) conducted an archeological field school at the Judith's Fancy archeological site, Salt River Bay National Historical Park and Ecological Preserve, St. Croix, U.S. Virgin Islands. Salt River Bay encompasses a variety of high energy ecosystems: estuarine bay, coral reefs, sea grass beds, a deep near shore undersea canyon, and the largest remaining mangrove forest in St. Croix. The island has witnessed a unique colonial history encompassing at least two different indigenous Amerindian populations, six European colonial occupations, myriad African Diaspora communities, and forced slave migrations, making St. Croix one of the most historically diverse communities in the Caribbean.
Students from USC and the University of Virgin Islands (UVI), led by Dr. David Goldstein (now the Chief of Interpretation at Christiansted National Historic Site) and NPS-SEAC archeologist Dr. Meredith Hardy, conducted excavations at a prehistoric village that dates to ca. A.D. 400-600. The site is located across Salt River Bay from the Columbus Landing archeological site, a National Historic Landmark, the location of the easternmost stone-lined ballcourt in the Caribbean, and the only place on U.S. owned soil where Christopher Columbus landed an exploration party on November 14, 1493. Judith's Fancy was also a sugar plantation during the 18th and 19th centuries, and is the likely location of the French colonial governor's estate dating from 1650-1696. The students uncovered evidence for food preparation and cooking, preparation of ceremonial fermented beverages, numerous stone and shell tools, and a nephrite or "jadeite" carved frog, an indicator of continued cultural ties to the South American homelands of these ancient farmers and fishers, along the Orinoco River. This project is part of a multi-year research effort by Dr. Hardy into the lives of ancient Caribbean islanders - how they adapted to island surroundings, their concepts of place and insularity and isolation, and interactions with their neighbors both near and far.
The students learned a two-fold approach for anthropological field skills, both archaeological (survey and excavation) and ethnographic, to collect field data on a nearly 1,500-year old archeological site, and to develop oral history data regarding historic land use on the island. Excavation efforts were focused on a portion of a possible structure and the central plaza of the village. Two ethnography students, led by Dr. Elizabeth Rezende (UVI), collected oral histories from local residents of Salt River Bay and across the island regarding catastrophic seismic and climate events, and farming and local agricultural practices that enhance resilience to hurricanes, tsunamis, and other environmental catastrophes.
The field school was coordinated through the Joint Institutes for Caribbean Marine Studies (JICMS), of which the University of South Carolina is a partner. The Joint Institutes for Caribbean Marine Studies is a consortium of four universities that includes University of North Carolina-Wilmington; the University of the Virgin Islands; Rutgers, the State University of New Jersey; and the University of South Carolina. The JICMS intends to construct a marine laboratory and field station at Salt River Bay, the Salt River Bay Marine Research and Education Center (MREC), to pair resource- and science-based management needs of the NPS and the Government of the Virgin Islands with the research and educational missions of the universities, such as marine biology and ecology, archeology and museum studies, and Caribbean Studies.
By Meredith D. Hardy, Ph.D., Archeologist, Southeast Archeological Center