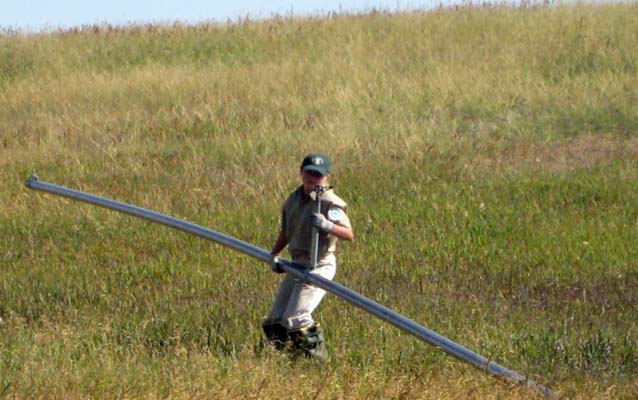 NPS Photo
Quick Facts
GETTING READY FOR 2016:

Action Item:

Step by Step

Also Promotes:

Step by Step

State:

Montana

Year Accomplished:

2012
Following in the footsteps of her two older siblings, Theresa Lombardi was hired at Grant-Kohrs Ranch through the Youth Conservation Corp in 2009.  That summer she demonstrated her hard work ethic, natural skills, and knowledge of agriculture attained through involvement in Future Farmers of America (her dad is the high school advisor).  Her summer work included moving hand line, white washing historic structures, and repairing old jackleg fence.  Theresa was everywhere helping during the site's major annual celebration "Ranch Days."  She helped with stacking hay, branding calves, and youth activities.
Theresa was a natural choice when hiring a Biological Aid through the Stay in School program in 2010.  Theresa has retained this position every summer since then, transferring into the Pathways program this year.  Her responsibilities always include moving the irrigation handline (which she loves) and has expanded each year.  On any given day you might find Theresa helping move cows, hand pulling noxious weeds along a flood irrigation ditch, taking monitoring-point photographs of range, or entering resource management data into the computer. 
Theresa is in college now - representing Montana State Billings on the cross country team.  She's pursuing a degree in Elementary Education to be a teacher like her mom.  Theresa will be a natural at it.  One of her goals . . . to become a Teacher-Ranger-Teacher and help spread the word about the national parks to the next generation of stewards.