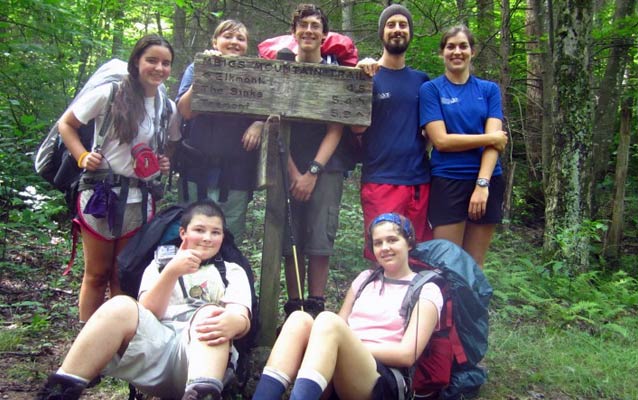 Great Smoky Mountains Institute at Tremont
Quick Facts
GETTING READY FOR 2016:

Action Item:

A Class Act

Year Accomplished:

2012
Great Smoky Mountains Institute at Tremont, a partner of Great Smoky Mountains National Park, has collaborated with local area schools and youth organizations to identify a core group of students to be a part of an Experience Your Smokies Youth Leadership Class of 2016 (EYS YLC). Throughout their time in the EYS YLC program, these students will be involved in a series of educational expeditions and opportunities in Great Smoky Mountains National Park.
The class kicked off the four-year-long program during the summer of 2012 when five students took part in a six day program at the Tremont Institute, a residential environmental learning center inside Great Smoky Mountains National Park. The kick-off program included a four-day backpacking trip in the park's wilderness that introduced the students to the program, park resources, and each other.
To be selected for the program, students committed to attend an active outdoor learning expedition in the park each summer and expressed a willingness to attend additional outings and educational programs throughout the year. Each student has selected a mentor who will help guide and counsel them throughout the four-year process. The program will continue until 2016 when the students graduate from high school and the National Park Service celebrates its one hundredth anniversary.
Over the course of the EYS YLC program, students are able to share what they have been learning from their experiences through their online blog, "Great Smoky Mountains Class of 2016," found at http://smokiesclassof2016.wordpress.com/.
Great Smoky Mountains Institute at Tremont provides in-depth experience to students of all ages through education programs that celebrate ecological and cultural diversity, foster stewardship, and nurture an appreciation of Great Smoky Mountains National Park. Their mission is to connect people and nature thorough hands-on learning experiences with the national park, focus on developing a greater sense of place, deeper appreciation and awe for the diversity of life and people, and promote an ethics of stewardship that transcends the park boundaries.