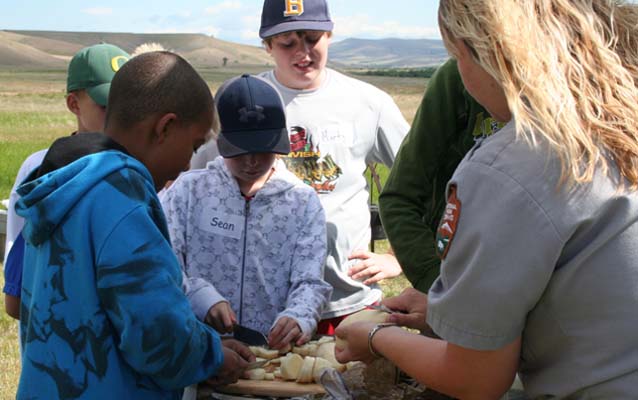 NPS Photo
Quick Facts
GETTING READY FOR 2016:

Action Item:

Next Generation Stewards

Also Promotes:

In My Back Yard

State:

Montana

Year Accomplished:

2012
The Grant-Kohrs Ranch summer youth camps engage local underserved youth with the natural and cultural resources of the park. Every Tuesday for 8 weeks in the summer kids from local communties have an opportunity to come out to the ranch and participate in hands-on activities that help them understand and enjoy all the ranch has to offer.
In 2012, 155 kids participated in 8 programs where they learned about campfire cooking, horsemanship skills, Native American culture, habitats, gardening, stream exploration, GPS use, and pioneer life. Park Rangers and the park Teacher Ranger Teacher combined their skills to develop a mix of programs that incorporated both history and science. The kids loved learning about Augusta Kohrs and her passion with gardening, preparing and cooking their own lunch over a campfire - just the way the cowboy cook would have done during the open range cattle era, setting up a tipi, and spending a hot afternoon wading through the creek looking for critters. Along with the hands-on educational activities the kids loved the many take home projects they completed such as creating a dreamcatcher, planting a flower, and making candles.
Through word of mouth this free program gained participants throughout the summer and is expected to be even bigger this coming year. It enabled a new generation of kids from low income families in communities surrounding the park to get outside and learn to appreciate the natural and cultural world around them and inspire them to become stewards of our parks.