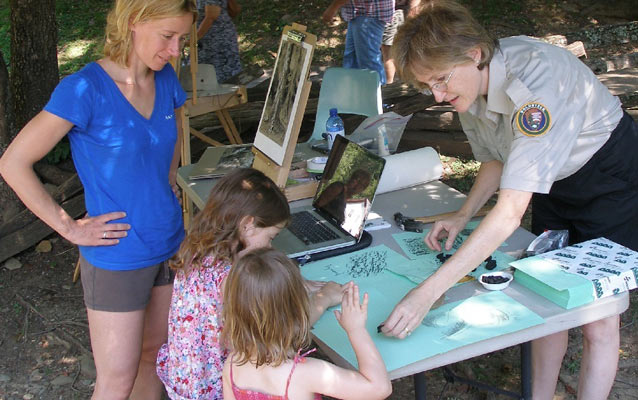 NPS photo
Quick Facts
GETTING READY FOR 2016:

Action Item:

Arts Afire

Year Accomplished:

2012
Great Smoky Mountains National Park has welcomed their first round of artisans from around the country to participate in the Park's first Artist in Residence (AiR) program. Three artists have actively shared their art and stories to over 1000 visitors of all ages through various programs and presentations throughout the summer of 2012.
The artists' presentations focused on educating the public on the artistic technique behind their specific art medium; charcoal drawings, printmaking, and oil painting. In addition, they also provided opportunities for visitors to try their hands at creating art inspired by the park.
Kelly Adams, an artist who specializes in charcoal and graphite drawings had a special interest in telling the story of the impact of invasive, exotic species on the park's natural communities. She shared this story at an interactive program which invited children and their parents to use the park as an inspiration to create drawings in charcoal.
Another artist, Tagan Crowe, is a local student from Cherokee High School. Tagan painted three days each week the porch of the Oconaluftee Visitor Center. He actively interacted with the visitors and shared his unique view of the Park stemming from his roots as a member of the Eastern Band of Cherokee Indians.
Two of the AiR participants also presented special programs to over 100 art students attending Arrowmont School of Arts and Crafts, located in nearby Gatlinburg, Tennessee. Arrowmont is a national art education center where artists of all backgrounds enroll in classes and workshops focusing on contemporary arts and crafts.
The Smoky Mountains AiR program is made possible due to support from longtime partner Friends of Great Smoky Mountains National Park as well as a new partnership formed with the Arrowmont School of Arts and Crafts.
This was the first year for the park to sponsor an AiR program. During the fall and winter seasons the park will welcome four more artists to be inspired by the flora, fauna, and history of Great Smoky Mountains National Park.