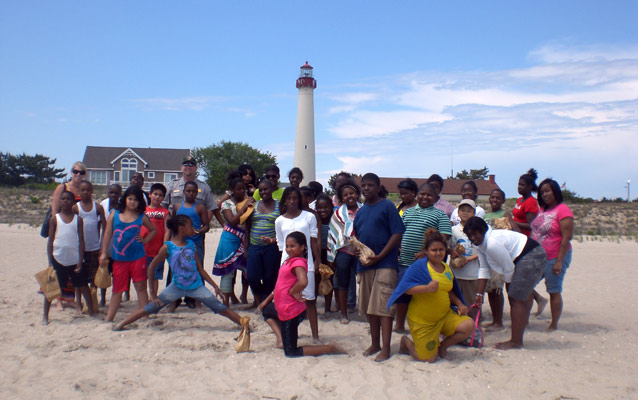 NPS
Quick Facts
GETTING READY FOR 2016:

Action Item:

Live and Learn

Also Promotes:

History Lesson

Year Accomplished:

2012
In partnership with the School District of Philadelphia, the Edgar Allan Poe National Historic Site Youth Partnership immersed approximately 50 urban youth from Spring Garden Elementary School in a ten-week program exploring National Parks. Participating youth were educated about the NPS Mission and learned to embrace the concept of stewardship in National Parks and even in their own neighborhoods and community playgrounds. The partnership featured a dynamic ranger, Andrew McDougall, who facilitated development of meaningful connections between urban youth and the natural and historical treasures in their local community, promoting personal responsibility, creativity and the relevance of National Parks to all people.
Youth involvement in the Edgar Allan Poe National Historic Site - and in the NPS generally - was reinvigorating, bringing new, creative ideas to light.  Whether by the creativity brought forth during a virtual visit to Badlands National Park or the ideas each kid wrote down in his or her journal throughout the program, these young participants had the potential to stay in close touch with nature and with the values of conservation and stewardship. 
Participating youth came from a poor, urban neighborhood. Some participants lived in a nearby Salvation Army shelter. Most of them qualified for free or reduced price lunch, which was sometimes their only full meal of the day. Through this program, these youth traveled to the National Mall, the NJ Coastal Heritage Trail, Fort McHenry and Hopewell Furnace, among other state and national parks. They got opportunities they otherwise wouldn't have to get outdoors, get walking, climbing and running.
The Edgar Allan Poe National Historic Site Youth Partnership was active for twenty years.  In that time, almost a full generation of fifth graders from the Spring Garden Elementary School passed through these activities, embracing the conservation mission of the National Park Service and, eventually, passing that stewardship message on to the next generation. By maintaining this program over the long term, the park invested in the future of Philadelphia's citizens, creating a sense of ownership for this local National Park. Using Park Rangers as role models, the program had, at its core, the mission of connecting urban youth to the historical and natural treasures in our National Parks while promoting personal responsibility and the shared stewardship of our own neighborhoods and communities.